Tools and Methods to Study the Blood Brain Barrier In Vivo
This an audio-only recording captured at Neuroscience 2018.
In this Meet the Expert, Chenghua Gu discusses new tools and methods her lab is using to study the blood brain barrier in vivo — particularly the relationship between neurons and endothelial cells.
The blood brain barrier functions as the gatekeeper of the CNS and the barrier that prevents most drugs from passing from the bloodstream into the CNS. The Gu Lab seeks to investigate the fundamental cellular and molecular mechanisms that govern the formation and regulation of the blood brain barrier, as well as how neural and vascular systems work together to ensure proper brain function.
Increased understanding of the mechanisms and functional aspects of neurovascular interactions has potential to enable bidirectional manipulation of the blood brain barrier.
Speaker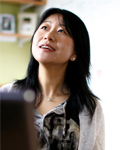 Chenghua Gu, PhD
Chenghua Gu is a professor of neurobiology at Harvard Medical School. Gu's main research interests lie in the interactions between the vascular and the nervous systems, specifically how the blood-brain barrier (BBB) functions and how blood supply is dynamically matched to the local energy needs of neural circuits. She received her undergraduate degree in veterinary medicine from Beijing Agricultural University and her PhD in cell biology and genetics from Cornell Medical School. She completed her postdoctoral training at the Johns Hopkins University School of Medicine.