High Channel Count Electrophysiology, Neuropixels, and Beyond: Where Can Technology Take Us?
This an audio-only recording captured at Neuroscience 2018.
Neural recording technology has advanced significantly over the past sixty years, from Hubel and Wiesel's tungsten wires to tetrodes to Neuropixels, a low-cost, high-channel-count silicon probe.
In this Meet-the-Expert, Timothy Harris, who led the team that developed Neuropixels, discusses the technology that allows this new electrophysiological tool to contribute a long, dense array. He assesses alternative paths for high-channel-count recording sensors and the origin of limits for these devices. He also explains how they give researchers the ability to cover more tissue and how they can be combined with light sources, electrical stimulation, and photometry.
Speaker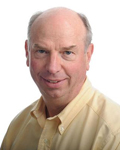 Timothy Harris, PhD
Tim Harris is a group leader and senior fellow at the HHMI Janelia Research Campus and a research professor at Johns Hopkins University, in the Department of Biomedical Engineering. After earning his PhD from Purdue University, he spent 18 years at Bell Labs and 12 years at startup biotechs, where he guided the development of high-throughput, automated confocal microscopy, as well as single-molecule DNA sequencing. He joined the HHMI Janelia Research Campus in 2008. Among other projects, he initiated that now called Neuropixels, jointly funded by HHMI, the Allen Institute for Brain Research, the Gatsby Charitable Foundation, and the Wellcome Trust, partnered with Cambridge University and University College London.