This session will reflect upon the speaker's progression — from a curious child interested in animal behavior, to a neuroscientist evaluating neural processes underlying cognitive functions — and discuss how current technology enables the study of thousands of brain cells simultaneously to identify the central algorithms of the cortex. The path to success goes through collaboration, and through the creation of a science environment valuing happiness and diversity in people as well as animals.
This was selected as a part of the Neuroscience 2023 programming: Theme H – Cognition
Registration is now open for all upcoming webinars. The webinars are complimentary for SfN members and $15 for nonmembers. Activate your account to receive member access to webinars.
Speaker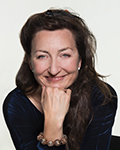 May-Britt Moser, PhD
May-Britt Moser is a professor of neuroscience since 2000 (associate professor from 1996) and scientific director of the Centre for Algorithms in the Cortex and scientific co-director of the Kavli Institute for Systems Neuroscience at the Norwegian University of Science and Technology (NTNU) in Trondheim. Her interest is in the neural basis of spatial location and spatial memory as well as cognitive functions more generally. Her work includes the discovery of grid cells in the entorhinal cortex, border cells, speed cells and object-vector cells, and mechanisms for episodic time. The recent development of Neuropixels probes and two-photon miniscopes for simultaneous recording of thousands of neurons in freely moving rats and mice (the latter developed in her lab) helps unravelling how the neural microcircuits are organized and spatial mapping is becoming one of the first non-sensory cognitive functions to be characterized at a mechanistic level in neural networks. Both psychology and PhD training in neuroscience from the University of Oslo and partly from University of Edinburgh. Nobel Prize in Physiology or Medicine in 2014.
Who can attend these webinars? All webinars in this series are complimentary to SfN members. Join or renew for access. This webinar is $15 for nonmembers.
Will the webinars be available on-demand? Yes, all webinars will be available to watch on demand after the live broadcast.
How do I access the conference on the live day? After registering, you will receive a confirmation email with the event link and the option to download calendar reminders.
What are the technology requirements for attending? These webinars are hosted on Zoom Webinar. Instructions for joining and participating in a webinar can be found here.
Can I ask the presenters questions? Yes! You can submit any questions before the webinar through the registration form. During the webinar, you can submit questions through the Q&A box.
Will a certificate of attendance be offered for this event? No, SfN does not provide certificates of attendance for webinars.
I have other questions not answered here. Email digitallearning@sfn.org with any other questions.
Review SfN's Code of Conduct, rules for virtual events in the Digital Learning Community Guidelines, and communications policies regarding dissemination of unpublished scientific data, listed below. SfN asks that conference attendees respect the sensitivity of information and data being presented that are not yet available to the public by following these guidelines:
Do not capture or publicly share details of any unpublished data presented.
If you are unsure whether data is unpublished, check with the presenter.
Respect presenters' wishes if they indicate that the information presented is not to be shared.
Webinar Refund Policy
What is the cancellation/refund policy for webinars?
If SfN changes fundamental details of the webinar (date, time, or speakers), nonmember registrants may request a registration refund.
To request a refund, please email digitallearning@sfn.org at least 48 hours before the event. Otherwise, refunds are not provided. All webinars are complimentary to SfN members.
SfN webinars can be watched on-demand if someone is unable to attend the live broadcast.