From the point of view of a developmental neurobiologist and university vice president promoting communications and diversity, this session will discuss the importance of networking, mentorship, and the need for diverse role models to inspire the next generation of neuroscientists worldwide. Case studies and insights to help young researchers navigate this exciting and evolving field of developmental neurobiology will be shared.
This was selected as a part of the Neuroscience 2023 programming: Theme A – Development
Registration is now open for all upcoming webinars. The webinars are complimentary for SfN members and $15 for nonmembers. Activate your account to receive member access to webinars.
Speaker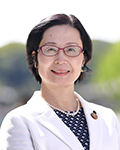 Noriko Osumi, PhD
Noriko Osumi is vice president at Tohoku University, director of Tohoku University Library, and professor at Tohoku University Graduate School of Medicine. Her lab's ongoing projects include investigating the molecular mechanisms of brain development and disease, as well as their sex differences, using animal models of neurodevelopmental disorders. She is fascinated by a theory of DOHaD and is eager to learn about the regulatory mechanisms that govern the transgenerational effects of paternal ageing on offspring behavior. She graduated from Tokyo Medical & Dental University, obtained a dental license, and received her PhD in developmental biology from the same university. After working as assistant professor at the same university, and a group leader at National Institute of Neuroscience, she has become a full professor at Tohoku University from 1998. Osumi is energetically serving for many governmental committees. She was awarded the Science and Technology Prize of the Commendation for Science and Technology by the MEXT in 2022 in the category of promoting understanding of science and technology to encourage female students to choose science-related career paths.
Who can attend these webinars? All webinars in this series are complimentary to SfN members. Join or renew for access. This webinar is $15 for nonmembers.
Will the webinars be available on-demand? Yes, all webinars will be available to watch on demand after the live broadcast.
How do I access the conference on the live day? After registering, you will receive a confirmation email with the event link and the option to download calendar reminders.
What are the technology requirements for attending? These webinars are hosted on Zoom Webinar. Instructions for joining and participating in a webinar can be found here.
Can I ask the presenters questions? Yes! You can submit any questions before the webinar through the registration form. During the webinar, you can submit questions through the Q&A box.
Will a certificate of attendance be offered for this event? No, SfN does not provide certificates of attendance for webinars.
I have other questions not answered here. Email digitallearning@sfn.org with any other questions.
Review SfN's Code of Conduct, rules for virtual events in the Digital Learning Community Guidelines, and communications policies regarding dissemination of unpublished scientific data, listed below. SfN asks that conference attendees respect the sensitivity of information and data being presented that are not yet available to the public by following these guidelines:
Do not capture or publicly share details of any unpublished data presented.
If you are unsure whether data is unpublished, check with the presenter.
Respect presenters' wishes if they indicate that the information presented is not to be shared.
Webinar Refund Policy
What is the cancellation/refund policy for webinars?
If SfN changes fundamental details of the webinar (date, time, or speakers), nonmember registrants may request a registration refund.
To request a refund, please email digitallearning@sfn.org at least 48 hours before the event. Otherwise, refunds are not provided. All webinars are complimentary to SfN members.
SfN webinars can be watched on-demand if someone is unable to attend the live broadcast.