September 06, 2023
1:00 PM - 2:00 PM EDT
With the rapid development of large-scale neural recording technologies, there is a need for modern statistical methods to dissect and interpret neural recordings. Byron Yu will describe how dimensionality reduction and related methods can be applied to large-scale neural recordings to provide new insights about brain function. He will also discuss the benefits of quantitative and experimental scientists working together at every stage of the scientific process: from experimental conception and design, to data analysis, to development of new statistical tools, and beyond.
This was selected as a part of the Neuroscience 2022 programming.
Speaker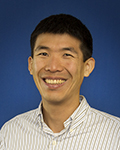 Byron M. Yu, PhD
Byron Yu is the Gerard G. Elia Career Development Professor in Electrical & Computer Engineering and Biomedical Engineering at Carnegie Mellon University. He is broadly interested in how large populations of neurons process information, from encoding sensory stimuli to driving motor actions. His group develops and applies novel statistical algorithms and uses brain-computer interfaces to study brain function. He received the BS degree in Electrical Engineering and Computer Sciences from UC Berkeley, and the MS and PhD degrees in Electrical Engineering from Stanford University. He was a postdoctoral fellow jointly at Stanford University and University College London.
Who can attend these webinars? All webinars in this series are complimentary to SfN members. Join or renew for access. This webinar is $15 for non-members
Will the webinars be available on-demand? Yes, all webinars will be available to watch on-demand after the live broadcast.
How do I access the conference on the live day? After registering, you will receive a confirmation email with the event link and the option to download calendar reminders.
What are the technology requirements for attending? These webinars are hosted on Zoom Webinar. Instructions for joining and participating in a webinar can be found here.
Can I ask the presenters questions? Yes! You can submit any questions before the webinar through the registration form. During the webinar, you can submit questions through the Q&A box.
I have other questions not answered here. Email digitallearning@sfn.org with any other questions.
Review SfN's Code of Conduct, rules for virtual events in the Digital Learning Community Guidelines, and communications policies regarding dissemination of unpublished scientific data, listed below. SfN asks that conference attendees respect the sensitivity of information and data being presented that are not yet available to the public by following these guidelines:
Do not capture or publicly share details of any unpublished data presented.
If you are unsure whether data is unpublished, check with the presenter.
Respect presenters' wishes if they indicate that the information presented is not to be shared.
Webinar Refund Policy
What is the cancellation/refund policy for webinars?
If SfN changes fundamental details of the webinar (date, time, or speakers), non-member registrants may request a registration refund. To request a refund, please email digitallearning@sfn.org at least 48 hours before the event. Otherwise, refunds are not provided. All webinars are complimentary to SfN members.
SfN webinars can be watched on-demand if someone is unable to attend the live broadcast.