March 28, 2023
12:00 PM - 1:00 PM ET
Join this interactive session as Dr. Terry Dean and Dr. Vittorio Gallo discuss their paper, "Endogenous Circadian Clock Machinery in Cortical NG2-Glia Regulates Cellular Proliferation" with Editor-in-Chief Christophe Bernard. Attendees can submit questions at registration and live during the webinar.
Below is the significance statement of the paper published on September 19, 2022, in eNeuro and authored by Terry Dean, Aissia Victoria Koffi, Evan Goldstein, Javid Ghaemmaghami, and Vittorio Gallo.
Circadian rhythm disturbances are commonly seen in neurologic disorders across the life span. The ramifications of these disturbances for the cellular healing capabilities of the brain are unknown. We show here that the largest population of regenerative cells in the adult central nervous system, known as NG2-glia, are indeed dependent on the integrity of their endogenous circadian rhythms. They not only rhythmically express molecular clock components, but the critical clock gene Bmal1 plays an important role in regulating their ability to proliferate, both at rest and after injury. These findings underscore the importance of circadian dysregulation in affecting brain recovery at the cellular level in neurologic disease.
Speakers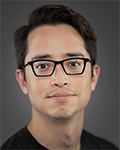 Terry Dean, MD, PhD
Terry Dean is a critical care physician at Children's National Hospital and a member of CNH's Center for Neuroscience Research. He is also an assistant professor of pediatrics at George Washington University School of Medicine and Health Sciences. Dean's research goal is to identify the circadian-regulated molecular pathways that NG2-glia engage to respond to brain injury. He earned his BA and MS degrees in neuroscience from Johns Hopkins University and received his MD and PhD training from the University of Pennsylvania.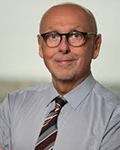 Vittorio Gallo, PhD
Vittorio Gallo is Chief Academic Officer at Children's National Hospital and Director of the Children's National Research Institute. He is Professor of pharmacology and physiology at George Washington University School of Medicine and Health Sciences. Gallo's research focuses on developmental neuroscience, particularly glial biology and myelination, neonatal brain injury, and cerebellar development and abnormalities. He received his PhD from the University of Rome, Italy working with Prof. Giulio Levi and the Nobel laureate Prof. Rita Levi-Montalcini. He completed his postdoctoral training as an EMBO Fellow at the MRC Developmental Biology Unit, London and University College, London. He was a NATO Fellow and Head of the Developmental Neurobiology Section at NICHD, NIH before moving to Children's National, where he established the Center for Neuroscience Research and the District of Columbia Intellectual and Developmental Disabilities Center.
Christophe Bernard, PhD
Christophe Bernard is the PhysioNet team leader in at the Institute of Neuroscience Systems at the French Institute of Health and Medical Research (INSERM). His research focuses on understanding how physiological and pathological behaviors emerge from the organization and reorganization of the underlying neuronal architecture, with an emphasis on epilepsy. He currently serves as Editor-in-Chief of eNeuro.
Who can attend these webinars? All webinars in this series are complimentary to SfN members. Join or renew for access. This webinar is $15 for non-members
Will this webinar be available on-demand? Yes, this webinar will be available on demand 1 week from the live broadcast.
How do I access the conference on the live day? After registering, you will receive a confirmation email with the event link and the option to download calendar reminders.
What are the technology requirements for attending? These webinars are hosted on Zoom Webinar. Instructions for joining and participating in a webinar can be found here.
Can I ask the presenters questions? Yes! You can submit any questions before the webinar through the registration form. During the webinar, you can submit questions through the Q&A box.
Will a certificate of attendance be offered for this event? No, SfN does not provide certificates of attendance for webinars.
I have other questions not answered here. Email digitallearning@sfn.org with any other questions.
Review SfN's Code of Conduct, rules for virtual events in the Digital Learning Community Guidelines, and communications policies regarding dissemination of unpublished scientific data, listed below. SfN asks that conference attendees respect the sensitivity of information and data being presented that are not yet available to the public by following these guidelines:
Do not capture or publicly share details of any unpublished data presented.
If you are unsure whether data is unpublished, check with the presenter.
Respect presenters' wishes if they indicate that the information presented is not to be shared.
Webinar Refund Policy
What is the cancellation/refund policy for webinars? If SfN changes fundamental details of the webinar (date, time, or speakers), non-member registrants may request a registration refund. To request a refund, please email digitallearning@sfn.org at least 48 hours before the event. Otherwise, refunds are not provided. All webinars are complimentary to SfN members.
SfN webinars can be watched on-demand if someone is unable to attend the live broadcast.