September 27, 2022
12:00 PM - 1:00 PM ET
Join this interactive session as Dr. Felix Felmy and Dr. Nikolaos Kladisios discuss their paper, "Synaptic Mechanisms underlying Temporally Precise Information Processing in the VNLL, an auditory brainstem nucleus", with JNeurosci Reviewing Editor Ruth Anne Eatock. Attendees can submit questions at registration and live during the webinar.
Below is the significance statement of the paper published on June 22, 2022, in JNeurosci and authored by Nikolaos Kladisios, Linda Fischer, Florian Jenzen, Michael Rebhan, Christian Leibold, and Felix Felmy
Auditory information processing in the brainstem is a prerequisite for generating our auditory representation of the environment. Thereby, many processing steps rely on temporally precise filtering. Precise feed forward inhibition is a key motif in auditory brainstem processing and produced through sign inversion at several large somatic excitatory synapses. A particular feature of the ventral nucleus of the lateral lemniscus is to produce temporally precise onset inhibition with little temporal variance independent of sound intensity. Our cell-physiology and modeling data explain how the synaptic characteristics of different current components and their short-term plasticity are tuned to establish sound intensity-invariant onset inhibition that is crucial for filtering out spurious frequency information.
Speakers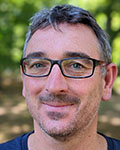 Felix Felmy, PhD
Felix Felmy is a professor at the Institute of Zoology at the University for Veterinary Medicine Hannover. He previously was a junior group leader at the Institute for Neurobiology at the Ludwig-Maximilian-University Munich. Felmy's main research interests lie in biophysical description of functionally relevant input-output functions in the auditory brainstem pathways. He received his undergraduate degree in Biology from Eberhard-Karls University of Tübingen and his PhD in synaptic physiology conducted at the Max-Plank Institute for biophysical Chemistry from Eberhard-Karls University of Tübingen. He completed his postdoctoral training at The Vollum Institute in Portland.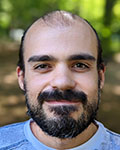 Nikolaos Kladisios, PhD
Nikolaos Kladisios is a Postdoc at the Institute of Zoology at the University of Veterinary Medicine Hannover. Kladisios's main research interests include in vitro and in vivo characterization of biophysical properties of auditory brainstem nuclei. He earned his B.S. in Biology from the Leibniz University Hannover and his PhD from the University of Veterinary Medicine Hannover, where he continues with his postdoctoral training.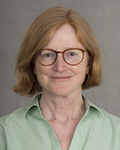 Ruth Anne Eatock, PhD
Ruth Anne Eatock is a professor of neurobiology in the neuroscience department at the University of Chicago. Eatock's lab studies the mechanosensory signaling in the inner ear, focusing on the mouse utricle. She earned her BSc in honors neurobiology and MSc in biology from McGill University, her PhD in biology from Caltech, and completed postdoctoral training at MIT.
Who can attend these webinars? All webinars in this series are complimentary to SfN members. Join or renew for access. This webinar is $15 for non-members
Will the webinars be available on-demand? Yes, all webinars will be available to watch on-demand after the live broadcast.
How do I access the conference on the live day? After registering, you will receive a confirmation email with the event link and the option to download calendar reminders.
What are the technology requirements for attending? These webinars are hosted on Zoom Webinar. Instructions for joining and participating in a webinar can be found here.
Can I ask the presenters questions? Yes! You can submit any questions before the webinar through the registration form. During the webinar, you can submit questions through the Q&A box.
I have other questions not answered here. Email digitallearning@sfn.org with any other questions.
Review SfN's Code of Conduct, rules for virtual events in the Digital Learning Community Guidelines, and communications policies regarding dissemination of unpublished scientific data, listed below. SfN asks that conference attendees respect the sensitivity of information and data being presented that are not yet available to the public by following these guidelines:
Do not capture or publicly share details of any unpublished data presented.
If you are unsure whether data is unpublished, check with the presenter.
Respect presenters' wishes if they indicate that the information presented is not to be shared.
Webinar Refund Policy
What is the cancellation/refund policy for webinars?
If SfN changes fundamental details of the webinar (date, time, or speakers), non-member registrants may request a registration refund. To request a refund, please email digitallearning@sfn.org at least 48 hours before the event. Otherwise, refunds are not provided. All webinars are complimentary to SfN members.
SfN webinars can be watched on-demand if someone is unable to attend the live broadcast.