April 25, 2023
12:00 PM - 1:00 PM ET
Join this interactive session as Dr. Kaitlin Laws and Dr. Greg J. Bashaw discuss their paper, "DrosoPHILA: A Partnership between Scientists and Teachers That Begins in the Lab and Continues into City Schools", with BrainFacts editor, Dr. Kelley Remole. Attendees can submit questions at registration and live during the webinar
Below is the significance statement of the paper published on February 6, 2023, in eNeuro and authored by Kaitlin M. Laws, Ent Natale, Edward A. Waddell, Jamie R. Shuda, and Greg J. Bashaw
Outreach programming creates connections between scientists and their communities while expanding students' perception of what science entails and who practices it. As such, outreach programming can act as one part of a multipronged approach to diversify the scientific workforce. To build sustainable, effective science outreach curricula, scientists should seek input from both teachers in their communities and experienced outreach educators. Here, we present our outreach program, DrosoPHILA, as a model for such partnerships. By explaining the program's development and making our supporting materials available, we hope to facilitate the creation of similar programs across different subject areas.
Speakers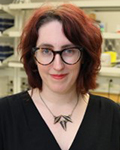 Kaitlin Laws, PhD
Kate Laws is an Assistant Professor of Biology at Randolph-Macon College. She previously was an IRACDA postdoctoral fellow in Greg Bashaw's lab at the University of Pennsylvania, where she worked on curriculum design and implementation of the DrosoPHILA outreach program. Laws' main research interests lie in non-neuronal functions for axon guidance receptors. She earned her BS in Biochemistry from Clemson University and her Ph.D. in Biochemistry and Molecular Biology from Johns Hopkins University.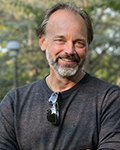 Greg J. Bashaw, PhD
Greg Bashaw is a professor of neuroscience at the Perelman School of Medicine at the University of Pennsylvania. Bashaw's research focuses on assembly of neural circuits in the developing spinal cord using fly and mouse models. In particular, the Bashaw lab investigates conserved mechanisms of axon guidance receptor regulation and signaling. He earned his BA in biology from Brown University, his PhD in Biology at Stanford University and completed postdoctoral training at the University of California, Berkeley.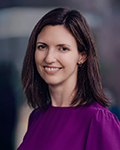 Kelley Remole, PhD
Kelley Remole is the Managing Director of the Wu Tsai Institute at Yale University and serves on the Editorial Board of BrainFacts. She previously worked at Columbia University as the Director of Neuroscience Outreach at the Zuckerman Mind Brain Behavior Institute. She received her doctoral degree in Neurobiology and Behavior in 2012 and her Master of Science in Nonprofit Management in 2020, both from Columbia University.
Who can attend these webinars? All webinars in this series are complimentary to SfN members. Join or renew for access. This webinar is $15 for non-members
Will this webinar be available on-demand? Yes, this webinar will be available on demand 1 week from the live broadcast.
How do I access the conference on the live day? After registering, you will receive a confirmation email with the event link and the option to download calendar reminders.
What are the technology requirements for attending? These webinars are hosted on Zoom Webinar. Instructions for joining and participating in a webinar can be found here.
Can I ask the presenters questions? Yes! You can submit any questions before the webinar through the registration form. During the webinar, you can submit questions through the Q&A box.
Will a certificate of attendance be offered for this event? No, SfN does not provide certificates of attendance for webinars.
I have other questions not answered here. Email digitallearning@sfn.org with any other questions.
Review SfN's Code of Conduct, rules for virtual events in the Digital Learning Community Guidelines, and communications policies regarding dissemination of unpublished scientific data, listed below. SfN asks that conference attendees respect the sensitivity of information and data being presented that are not yet available to the public by following these guidelines:
Do not capture or publicly share details of any unpublished data presented.
If you are unsure whether data is unpublished, check with the presenter.
Respect presenters' wishes if they indicate that the information presented is not to be shared.
Webinar Refund Policy
What is the cancellation/refund policy for webinars? If SfN changes fundamental details of the webinar (date, time, or speakers), non-member registrants may request a registration refund. To request a refund, please email digitallearning@sfn.org at least 48 hours before the event. Otherwise, refunds are not provided. All webinars are complimentary to SfN members.
SfN webinars can be watched on-demand if someone is unable to attend the live broadcast.