This session features a clinician scientist whose career in neurology and neuroscience focuses on understanding the underlying causes of ALS and other neurodegenerative diseases, as well as the factors that determine disease susceptibility versus disease resilience. Clinical studies have linked ALS risk with select occupations, environmental pollution, polygenic risk, and changes in the immune system. The speaker's goal, motivated by the new ALS cases diagnosed weekly, is to make ALS a preventable disease by modifying currently identified and future ALS risk factors.
This was selected as a part of the Neuroscience 2023 programming: Theme C – Neurodegenerative Disorders and Injury
Registration is now open for all upcoming webinars. The webinars are complimentary for SfN members and $15 for nonmembers. Activate your account to receive member access to webinars.
Speaker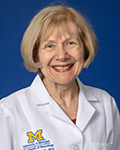 Eva L. Feldman, MD, PhD
Eva L. Feldman is a clinician scientist with an active clinical practice and a laboratory of 25 scientists. She is the James W. Albers Distinguished University Professor, the Russell DeJong Professor of Neurology at the University of Michigan (UM), and director of the ALS Center of Excellence. She earned her MD and PhD from UM and completed neurology residency at Johns Hopkins. The focus of her research is neurodegenerative diseases, including ALS, its pathogenesis and the role of the exposome in ALS risk and progression.
Who can attend these webinars? All webinars in this series are complimentary to SfN members. Join or renew for access. This webinar is $15 for nonmembers.
Will the webinars be available on-demand? Yes, all webinars will be available to watch on demand after the live broadcast.
How do I access the conference on the live day? After registering, you will receive a confirmation email with the event link and the option to download calendar reminders.
What are the technology requirements for attending? These webinars are hosted on Zoom Webinar. Instructions for joining and participating in a webinar can be found here.
Can I ask the presenters questions? Yes! You can submit any questions before the webinar through the registration form. During the webinar, you can submit questions through the Q&A box.
Will a certificate of attendance be offered for this event? No, SfN does not provide certificates of attendance for webinars.
I have other questions not answered here. Email digitallearning@sfn.org with any other questions.
Review SfN's Code of Conduct, rules for virtual events in the Digital Learning Community Guidelines, and communications policies regarding dissemination of unpublished scientific data, listed below. SfN asks that conference attendees respect the sensitivity of information and data being presented that are not yet available to the public by following these guidelines:
Do not capture or publicly share details of any unpublished data presented.
If you are unsure whether data is unpublished, check with the presenter.
Respect presenters' wishes if they indicate that the information presented is not to be shared.
Webinar Refund Policy
What is the cancellation/refund policy for webinars?
If SfN changes fundamental details of the webinar (date, time, or speakers), nonmember registrants may request a registration refund.
To request a refund, please email digitallearning@sfn.org at least 48 hours before the event. Otherwise, refunds are not provided. All webinars are complimentary to SfN members.
SfN webinars can be watched on-demand if someone is unable to attend the live broadcast.