Specific Neurons Responsible for Alcohol Use Disorder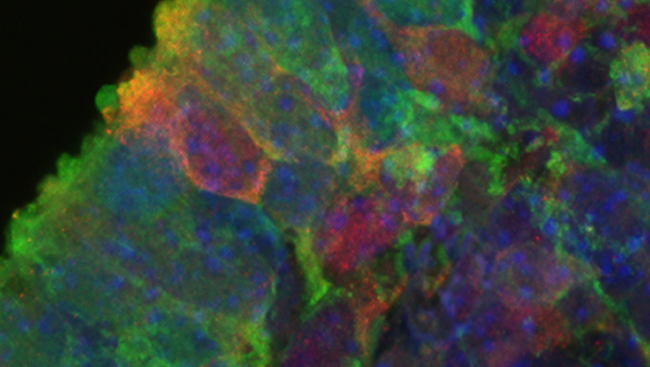 Material below summarizes the article Alcohol Elicits Functional and Structural Plasticity Selectively in Dopamine D1 Receptor-Expressing Neurons of the Dorsomedial Striatum, published on August 19, 2015, in JNeurosci and authored by Jun Wang, Yifeng Cheng, Xuehua Wang, Emilty Roltsch Hellard, Tengfei Ma, Hannah Gil, Sami Ben Hamida, and Dorit Ron.
Alcohol use disorder (or alcoholism) is a widespread illness and considered to result from abnormally enhanced learning and memory processes. However, the detailed mechanisms underlying this illness are not understood well, and the therapeutics are also limited.
Alcohol use disorder involves many brain regions. The dorsomedial striatum (DMS), a brain region that is essential for goal-directed actions, has been implicated recently in drug and alcohol addiction. DMS neurons are modulated largely by a chemical called dopamine, which is the major player in drug addiction. Dopamine modulates DMS neurons through binding its receptors, which are proteins on the surface of DMS neurons. DMS neurons can be divided, based on their expression of different subclasses of dopamine receptors, into two groups: One contains dopamine D1 receptor (D1-neuron), and the other expresses dopamine D2 receptor (D2-neurons). D1-neurons and D2-neurons have been reported to make distinct contributions to reward behaviors.
In this research, we examined whether alcohol alters the activity and structure of these two neuronal populations of the DMS in a mouse model of alcoholism. We used transgenic mice in which D1-neurons or D2-neurons are fluorescently labeled so that each neuronal population can be selected for study. The mice were trained to voluntarily consume high levels of alcohol to model human alcoholism. After at least eight weeks of alcohol intake, mouse brains were removed and cut into very thin slices, in which D1-neurons and D2-neurons are still alive. Under a microscope, we measured the electrical activity of individual D1-neurons and D2-neurons. We found that drinking high levels of alcohol caused an increase in excitatory activity in D1-neurons but not D2-neurons.
A neuron looks like a tree, with many branches and many small protrusions (called spines) coming off branches. To examine morphological changes in these two neuronal populations, we infused a dye into individual D1-neurons or D2-neurons, fixed slices, and took images of the dye-labeled neurons using a microscope that allows us to visualize the spines, which are about 1 micrometer long. We discovered that alcohol increases the numbers of branches and one specific type of spine, mushroom spines, in D1-neurons but not D2-neruons. The mushroom spine is known to be involved in storing long-term memory.
Together, these results indicate that alcohol changes the structure and function of D1-neurons to make them more excitable. Alcohol also increases long-term memory in the DMS that is associated with alcohol. Since excitation of D1-neurons is believed to stimulate selection of goal-directed actions in reward behaviors (e.g., initiating alcohol-seeking or -taking actions), our result further suggests that alcohol intake excites D1-neurons, which drive the animal to consume more alcohol.
Lastly, we examined whether we could inhibit excessive alcohol consumption by suppressing D1-neurons in the DMS. We locally infused into the DMS a chemical that selectively inhibits D1 receptors, which should, in turn, suppress the activity of D1-neurons. We found that alcohol drinking levels were decreased after the infusion. This result suggests that suppression of D1-neurons in the DMS using a D1-receptor inhibitor is sufficient to decrease excessive alcohol consumption.
In summary, we found alcohol intake alters the structure and function selectively in D1-neurons in the DMS, which may make this population more excitable, driving more alcohol intake. Suppressing D1-neuron activity in the DMS region is sufficient to inhibit excessive alcohol consumption.
Visit JNeurosci to read the original article and explore other content. Read other summaries of JNeurosci and eNeuro papers in the Neuronline collection SfN Journals: Research Article Summaries.
Alcohol Elicits Functional and Structural Plasticity Selectively in Dopamine D1 Receptor-Expressing Neurons of the Dorsomedial Striatum. Jun Wang, Yifeng Cheng, Xuehua Wang, Emilty Roltsch Hellard, Tengfei Ma, Hannah Gil, Sami Ben Hamida, and Dorit Ron. The Journal of Neuroscience, Aug 2015, 35 (33). 11634-11643, DOI: 10.1523/JNEUROSCI.0003-15.2015