Decision-Making in the Brain, the Lab, and Beyond
This an audio-only recording captured at Neuroscience 2018.
"Our ultimate goal is to understand how the brain controls behavior," says Anne Churchland, an associate professor at Cold Spring Harbor Laboratory. "We want to measure neural activity from as many neurons as possible," she says, and "know as much about those neurons as we can."
In this Meet-the-Expert, she reflects on her career path, beginning as an undergrad through where she is today. She also shares some of the approaches and techniques her lab uses to illuminate the neural circuits underlying decision-making, such as two-photon and widefield imaging, and modeling to interpret neural data and make discoveries. Her lab examines behavior in humans and rodents and measures neural activity in rodents.
She also explains how the work of her lab is made more powerful through the International Brain Laboratory, a team she helped launch comprising 21 experimental and theoretical neuroscientists working in London, New York, and Lisbon.
Speaker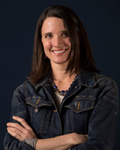 Anne Churchland, PhD
Anne K. Churchland is an assistant professor at Cold Spring Harbor Laboratory. Churchland received her PhD in neuroscience from the University of California, San Francisco and did a postdoctoral fellowship at the University of Washington in the physiology and biophysics department. In starting her own laboratory, Churchland began studying decision-making using rodent models, to take advantage of emerging tools for circuit dissection. Her laboratory has been a major player in bringing behavioral paradigms to rodents that have been successful in elucidating neural mechanisms in humans and primates, including perceptual decision-making and multisensory integration. She is a founding member of the International Brain Laboratory, a collaboration of 21 experimentalists and theorists that aims to generate a brain-wide theory of decision-making.