Your Annual Meeting Strategy: Advice From Previous Attendees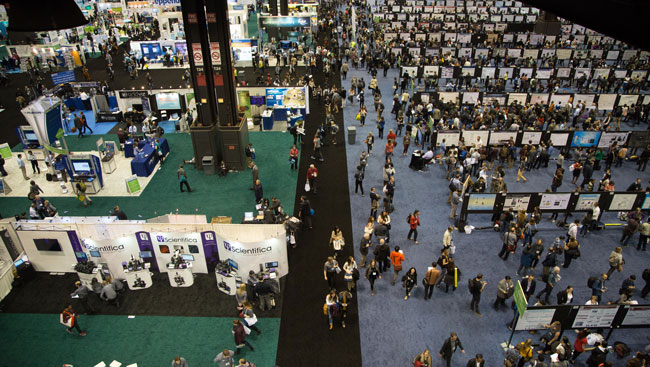 With so many posters, talks, symposiums, exhibits, socials, and more, it can seem like there are as many ways to approach the meeting as there are attendees.
Should you stick to your specific area or follow your curiosities to learn about other research paths? Which is more beneficial to attend for where you are in your career: talks, posters, or workshops? How much time should you spend learning new information versus meeting new people? What tools can help you plan?
Experienced attendees weighed in. Consider their advice when planning for your meeting experience.
Plan Ahead and Set Expectations for Yourself
"Be content with the fact that you can't see everything. Pick something that you feel might be interesting and enjoy what you see and hear."
-Fritz Lischka, Uniformed Services University of the Health Sciences
"Plan out your priorities ahead of time because you probably won't make it to everything. Not to mention, it's easy to get caught up in the social aspects of the conference, so, be reasonable with your list and stick to the most important events."
-Candi Lasarge, Cincinnati Children's Hospital Medical Center

"Be very specific in focusing on your area of research and don't try to overload yourself with peripheral information. It becomes overwhelming and frustrating. The meeting can be an extremely advantageous tool if you tailor your focus to your field."
-Jeffrey Thinschmidt, University of Florida
Be Open to Exploring Other Areas
"Don't forget that you are going to discover things as you walk through. A lot of the things that I saw weren't on my planner, but I just discovered it walking by. It's worth making some laps around the conference."
-Adam Prus, Northern Michigan University

"I love hearing about other fields that are outside of my own area of research. Some people come and look for posters that are directly related to their research, but I go through the program and find things that sound cool and then talk to the poster presenter. That dialogue is really important, especially for new scientists, because establishing connections between different areas is important. There might be ways you can collaborate that you would never think of based on existing literature."
-Colin Howes, University of Guelph

"It helps to see what is going on before you even arrive. But at the same time, don't be afraid to browse around and see other research because even if it's not in your exact area, there are a lot of interesting ideas that might affect your research."
-Carey Zhang, California Institute of Technology
Consider Which Events Are Best For You
"Decide whether you'd rather talk to people more or listen. For instance, I prefer to go to more posters than talks because it's easier to have discussions with people. The talks typically take only 2-3 questions from a large group of people. I also like to visit the vendors to learn about new technology."
-Mariano Soiza-Reilly, Institut Du Fer a Moulin-Inserm
"Narrow down specific posters, mini symposiums, and workshops that you are interested in. Take advantage of the workshops — there are so many great speakers who offer advice and really push you to get out there and network. Look at the conference as a whole networking experience. For me personally, I try to go to 4-5 posters that I am very interested in for each session. I'll talk to the presenters, and if I can gain enough knowledge from one poster that can help me in my area of research or if we can form a collaboration, then I consider that a successful meeting."
-Chris Greene, Stanford University
Take Advantage of Online Tools
"Use Twitter. Twitter is one of the ways that I found out about many events that are going on either at the conference or after the conference, and it has allowed me to keep in touch with other scientists in a way I don't think I would otherwise."
-Rachel Hendrix, University of Arkansas for Medical Sciences
"Now there is the ability to go online and make your schedule ahead of time with the Neuroscience Meeting Planner. It can even tell you where there are time conflicts. In our lab, we use it ahead of time, and if one person has to be in three meetings, we divide the workload. We prioritize and divide up meetings and then exchange notes since we cannot be everywhere at the same time."
-Malathi Srivitsan, Arkansas State University
After reading this advice, what is your Neuroscience 2023 strategy? New and past attendees, share your plan below.
*
Comments adapted from interviews conducted at SfN's Neuroscience 2015.