Finding the Confidence to Network at the Annual Meeting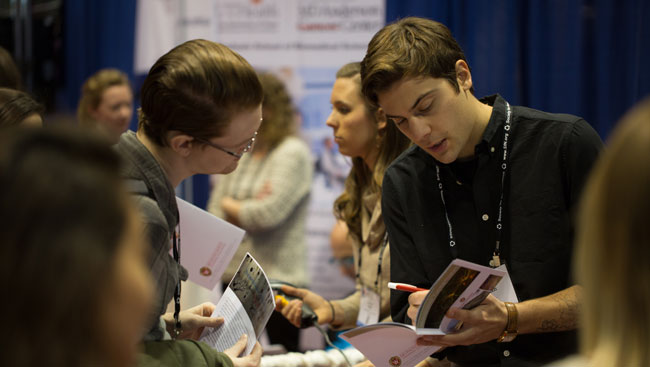 SfN's annual meeting is a great time to establish lasting connections, but when it comes time to make that first introduction, confidence can be hard to find. As you prepare for the meeting, consider this first-hand networking advice from experienced attendees.
"Everyone is very friendly. They are looking to collaborate just as much as you are. It is hard not to be shy sometimes, but you have to put yourself out there. It is just an introduction — your name and a handshake — and the conversation is pretty easy from there."
-Chris Greene, Stanford University
"Don't be scared. I am new to the field so for me it was a little bit overwhelming to ask questions like 'I can see the overall goal of your poster, but I don't understand why you did this instead of this?' My PI was very supportive and encouraged me to try to read everything beforehand and give it my best. Remember: People are usually so kind and willing to share their knowledge with you."
-Estefany Kelly Rodriguez Manyari, University of Kansas
"Establish an interest in their work and let them know how to follow your work because really, as scientists, that is what we are interested in."
-Colin Howes, University of Guelph
"Go to the posters because that is where you get to meet any previous collaborators or colleagues. Follow up on their work and try to attend some after-work activity where you can socialize and network in smaller groups."
-Maj-Linda B. Selenica, University of South Florida Health Byrd Alzheimer Institute
"Don't be afraid to start conversations with people on the shuttle buses where there is a captive audience. That is a very low pressure environment. No one else is going to hear you asking questions, so it is a really good opportunity to pick the brain of a fellow neuroscientist."
-Jessica Ross, Cincinnati Children's Hospital Medical Center
"Network as much as possible. Don't shy away from introducing yourself and meeting people because you can learn a lot from even just being a bystander to a conversation. See the posters, go to every talk that you like, and explore as much as you can."
-Rishi Malik, Queens University
"Remember: they are normal people. Try to establish a common interest."
-Danielle Haynes, University of Guelph
*Comments adapted from interviews conducted at SfN's Neuroscience 2015.