A Beginner's Guide to Networking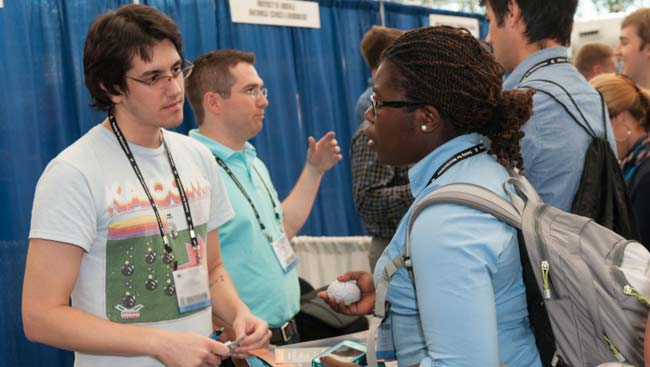 This resource was featured in the NeuroJobs Career Center. Visit today to search the world's largest source of neuroscience opportunities.
Everywhere you go, you continuously build your personal and professional network. In fact, one conversation today could become a career connection down the road.
Build trusting, intentional relationships in your day-to-day interactions in order to advance your career now and in the future. Here's how:
Get Involved
You're too late if you try to build a network only when you need a job. Before you need that favor, proactively build relationships by:
Joining an organization in your area of interest for career growth and leadership opportunities.
Joining your local SfN chapter to get to know people beyond your institution.
Attending small meetings where limited attendance facilitates more interactions.
Contacting someone at a local university even if they are in a different area of neuroscience.
Exchange Business Cards
No matter your level of study, make sure you have a business card. They allow people to find you easily, especially if you haven't published yet. Remember to:
Use a "two pocket" system: one pocket for receiving cards and one for holding your own.
Accept cards graciously and take a moment to look at them.
Jot down notes about your interactions after the event.
Interact with Purpose
You're bound to meet a lot of people as you network. Stand out and leave a good impression by:
Giving a firm handshake both in greeting and to gracefully leave a conversation. Get feedback on your handshake from close colleagues or a friend.
Showing genuine gratitude when you receive help.
Extending your hand to anyone — even a competitor.
Being nice to everyone. The world is smaller than you think!
Biological and neuroscience research has changed rapidly in the last decade. Team-based science is growing tremendously, especially in the pharmaceutical industry. Practice the same networking skills you use in everyday life — such as communicating openly and honestly — to become a valued team member.
You never know which casual interaction will turn into your next big career connection. Be alert. Be open. Be kind.
Adapted from the SfN Webinar, Networking: Building Bridges to Careers Outside Academia.