Advocacy Activities That Influence Policymakers
There are certain activities you can do to advocate more efficiently. Using data, learn about the most effective ways to engage with your lawmakers. Whether you're just stepping into advocacy or are an experienced advocate, there are many ways to get the attention of a Congressional office — even if you're not in Washington, D.C.
This video covers:
The variety of options available to communicate with Congressional offices.
Which means of communication are most impactful, according to Congressional staffers.
How to pick the platform you're most comfortable with to engage your members of Congress.
SfN is dedicated to helping you continue to grow as an advocate whether you're brand new or have years of experience. Learn more at sfn.org/advocacy or email advocacy@sfn.org for assistance.
For more advice, explore these resources:
How to Be a Leader in Science Advocacy
Advancing Social Change Through Science
What I Learned From Facing My Fears Doing Science Advocacy as a Grad Student
Speaker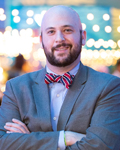 Adam Katz
Adam Katz is the Advocacy Engagement Manager at the Society for Neuroscience, where he equips and empowers researchers to engage their elected officials. He previously was a Policy and Advocacy Specialist at Research!America and an intramural postbaccalaureate researcher within the National Institute of Mental Health. Katz's main research interests lie in neural plasticity. He received his undergraduate degree in brain and cognitive science from the University of Rochester and his Master's in policy and advocacy from Georgetown University.