Module 3C: Supporting Resources for Ex Vivo Applications, Nuts and Bolts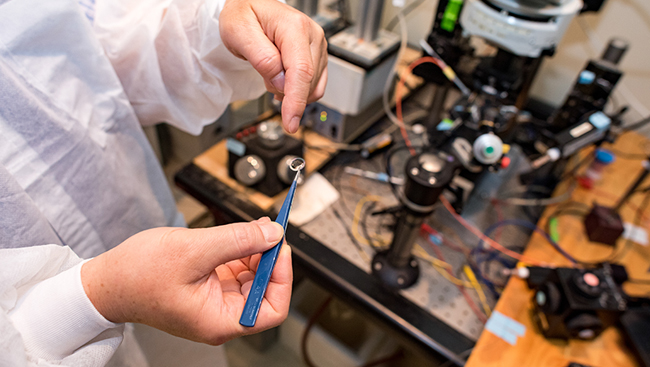 The resources below were selected by Patrick Rothwell, Stephanie Craigg, and Yevgenia Kozorovitsky, faculty from Module 3 of SfN's Optogenetics Training Series. These resources supplement their presentations, Optogenetic Applications in Acute Brain Slices and Nuts and Bolts of Ex Vivo Optogenetics Experiments.
Use these resources to better understand appropriate applications and key concepts of designing and interpreting optogenetic experiments using ex vivo preparations.
This platform covers choice of opsins, opsin expression, and hardware with a supporting bibliography.
Gating of Dopamine Transmission by Calcium and Axonal N‐, Q‐, T‐ and L‐Type Voltage‐Gated Calcium Channels Differs Between Striatal Domains
In this 2015 report, Brimblecombe et al. use optogenetics for selective dopamine axon activation to help localize L-type calcium channels to dopamine axons.
Coupling Voltammetry With Optogenetics to Reveal Axonal Control of Dopamine Transmission by Striatal Acetylcholine
This book chapter by Kosillo et al. describes how to combine optogenetics with voltammetry in slices.
Neuromodulation of Excitatory Synaptogenesis in Striatal Development
Kozorovitskiy et al. use optogenetics with a transgenic cross to carry out in vivo induction of plasticity, and ex vivo readout of corticostriatal connectivity.
Subcellular Connectivity Underlies Pathway-Specific Signaling in the Nucleus Accumbens
This 2012 paper from MacAskill et al. uses optogenetics with physiology and two-photon imaging to examine different glutamatergic projections to the nucleus accumbens.
Input- and Output-Specific Regulation of Serial Order Performance by Corticostriatal Circuits
Rothwell et al. use optogenetics ex vivo to identify plasticity at specific corticostriatal synapses evoked by behavioral training.
Principles of Synaptic Organization of GABAergic Interneurons in the Striatum
In this 2016 report, Straub et al. use optogenetics ex vivo to identify and characterize synapses formed by rare types of striatal interneurons.
Glutamatergic Signaling by Mesolimbic Dopamine Neurons in the Nucleus Accumbens
Tecuapetla et al. use optogenetics ex vivo to characterize co-release of glutamate by mesolimbic dopamine neurons.
Striatal Dopamine Release Is Triggered by Synchronized Activity in Cholinergic Interneurons
This 2012 study by Threlfell et al. uses optogenetics with viral delivery to show that targeted activation of striatal cholinergic interneurons directly drives dopamine release.
Dopaminergic Neurons Inhibit Striatal Output through Non-Canonical Release of GABA
Tritsch, Ding, and Sabatini use optogenetics ex vivo to show that dopaminergic neurons also co-release GABA via an unconventional mechanism.
Biased Oxytocinergic Modulation of Midbrain Dopamine Systems
Xiao et al. use optogenetics with electrophysiology and anatomical assays to structurally and functionally define oxytocinergc projections to dopamine neurons, reporting opposing effects of oxytocin on tonic activity in the ventral tegmental area and substantia nigra pars compacta.
Equipment List
Explore these examples of components for optogenetics stimulation using LED illumination and a simple control circuit.
LED Optical Path:

LED Control:

NPN bipolar transistor: for TTL pulse switch
Also required are a power supply, solderless breadboard, grounding, and connections wires. Single strand wire is used for the breadboard.
A more complex, flexible, and powerful open-source LED driver, called Cyclops, has been developed in Steve Potter's laboratory at Georgia Tech University. This 2013 paper from Tchumatchenko, Newman, et al., Delivery of Continuously-Varying Stimuli Using Channelrhodopsin-2, describes Cyclops in more detail.
---
Visit the Community forum for all eight modules to share your insights and best practices, ask questions, and engage with other training series' participants.
Complete this short survey to provide valuable feedback about Module 3 to SfN and the series faculty.