Module 3A: Optogenetic Applications in Acute Brain Slices
In this presentation, Patrick Rothwell will cover why and when to use optogenetics in acute brain slices, also called ex vivo. Specifically, Rothwell will:
Identify scientific questions that can be addressed using optogenetics in ex vivo preparations.
Compare optogenetics to alternative ex vivo methodologies.
After watching this presentation, you should be able to better understand applications of optogenetic approaches in ex vivo preparations.
Visit the Community forum for all eight modules to share your insights and best practices, ask questions, and engage with other training series' participants.
Speaker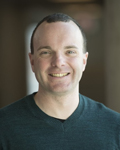 Patrick Rothwell, PhD
Patrick Rothwell is an assistant professor and MnDRIVE Neuromodulation Scholar in the department of neuroscience at the University of Minnesota Medical School. His lab studies neural circuit function in the striatum and basal ganglia, including modulation of these circuits by endogenous and exogenous opioids, and circuit dysfunction in brain conditions like addiction and autism spectrum disorders. Rothwell received his PhD in neuroscience from the University of Minnesota and completed postdoctoral training at Stanford University.