Transcription Dysregulation of the PGC-1α in Huntington's Disease Pathogenesis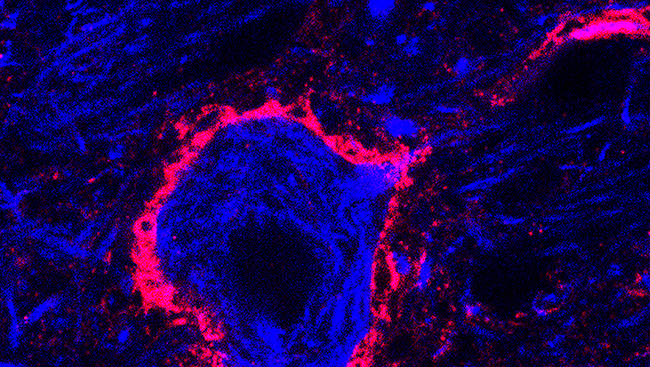 Material below is adapted from the SfN Short Course, Transcription Dysregulation of the PGC-1α Pathway in Huntington's Disease Pathogenesis: From Metabolic Derangement to Neurodegeneration, by Albert R. La Spada, MD, PhD. Short Courses are day-long scientific trainings on emerging neuroscience topics and research techniques held just prior to SfN's annual meeting.
The ability to sequence whole genomes faster and more accurately has revolutionized medicine and research. Among the first benefits of this work have been new insights into neurodevelopmental and neurodegenerative diseases. In order to overcome hurdles and foster new advances, we must understand the discoveries these new technologies enable. The experience of researchers addressing Huntington's disease provide a compelling case study for us to delve into the power and challenges of genomic research as well as its potential to treat disease.
An autosomal dominant genetic disorder, Huntington's disease results when a person inherits a single faulty gene. The disease first affects muscle coordination, but over time, people eventually lose mental abilities and display altered behavior. The disease leads to progressive degeneration and loss of tissue in several brain regions including the striatum, the connection between the brain's hemispheres, and the cerebral cortex, the outer layer of the brain, which plays key roles in memory, consciousness, attention and reasoning.
A triplet repeat disease, Huntington's is caused by a repeating motif of three nucleic acids, cytosine (C), adenosine (A) and guanine (G), in the gene encoding the htt protein. When the CAG repeat occurs fewer than 26 times, the htt protein performs normally. However, when the number of repeats exceeds 40, a mutant form of the htt protein accumulates in brain tissue and damages neurons. A person with an intermediate number of repeats may or may not develop the disease. Researchers are still working to elucidate exactly how the mutant protein affects the nervous system.
More than two decades ago, researchers realized that the CAG-triplet repeat triggered other, far-reaching genetic effects that contributed to the disease. Specifically, the mutant htt protein interferes with the normal transcription of other genes. Although, the disease is considered progressive and incurable, this realization opened up new avenues for developing treatments to alleviate the symptoms of Huntington's disease.
Mice that model the effects of Huntington disease also have issues with regulating their body temperature. Rodents' bodies respond to cold temperatures by creating brown adipose tissue, a tissue that generates heat in animals that do not shiver. In Huntington's disease mice, brown adipose tissue contains abnormalities that prevent it from functioning.
By analyzing the expression of a relevant set of genes in these mice, the researchers determined that the mutant htt protein interfered with another protein called PPAR-gamma coactivator-1- alpha (PGC-1α). PGC-1α plays an important role in metabolism and the regulation of brown adipose tissue — it regulates a host of other genes involved in those processes.
In order to explore this link, researchers bred mice to produce more PGC-1α protein on cue. By breeding those mice with the Huntington's disease mice, the researchers created progeny that performed just as well on motor tests as control mice, indicating that the restoration of PGC-1α's function helped alleviate some symptoms of the disease. A close look at the rodents' brains also revealed fewer clumps of mutant htt protein, one of the ways that Huntington's disease damages brain tissue.
The same research group is now investigating whether another protein known to interact with PGC-1α is also disrupted in Huntington's disease. Already this protein, a member of the peroxisome proliferator–activated receptors family, has been shown to help rodents with symptoms that mimic Parkinson's disease. The team hopes that it may have similar neuroprotective effects in Huntington's disease. This is just one example of genetics research that could lead to a potent treatments addressing the deficiencies caused by neurological diseases.