The Smell Network: The Brain's Architecture for Human Olfaction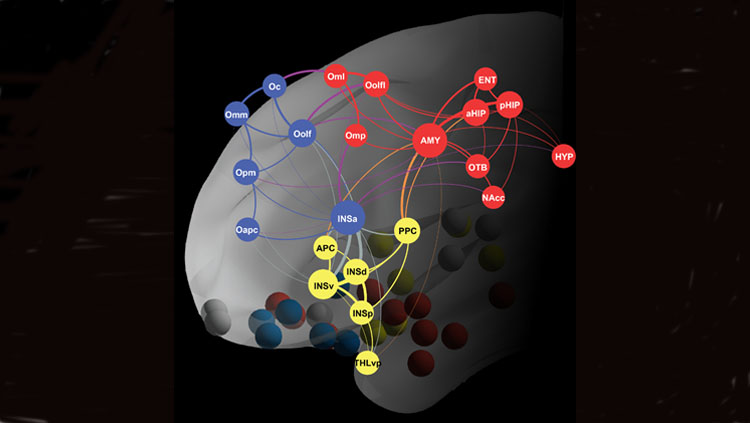 Material below summarizes the article Functional Connectome Analyses Reveal the Human Olfactory Network Organization, published on May 29, 2020, in eNeuro and authored by T. Campbell Arnold, Yuqi You, Mingzhou Ding, Xi-Nian Zuo, Ivan de Araujo and Wen Li.
Highlights
Smell is borne out of a network of interconnected regions that are distributed across the brain.
The larger odor processing network consists of three smaller subnetworks, which serve different functional purposes.
Segregation of subnetworks helps to insulate the different functions and facilitates olfactory perception.
Study Question
What is the brain architecture for human olfaction? How are widely distributed neural structures organized to support the uniquely multifaceted functions of olfaction?
How This Research Advances What We Know
Human olfaction is complex, varied, and extends beyond smell into homeostatic functions of emotion, feeding, and endocrine. However, among all five senses, the sense of smell is the least studied and most mysterious. While the brain networks underlying our senses of sight, hearing, and touch have all been unveiled, the network for smell remains elusive. Here, we addressed this critical gap by characterizing the brain network of smell ("the smell network"). We also examined whether the smell network is optimally organized to enhance our olfactory perception.
Experimental Design or Methodology
To understand how the brain regions are connected, neuroscientists record brain activity and isolate regions that are active at the same time. The different groups of coactive brain regions form networks, which have been associated with carrying out specialized tasks, such as directing attention, processing emotions, or interpreting sensory information.
We thus examined brain coactivation ("coupling") in two datasets. First, in a large sample of 812 individuals, we compared brain activity from different regions and compiled a list of areas associated with processing smells. To understand how these regions were organized into a "smell network," we then conducted graph-theoretical analyses. In the context of the brain, a graph is a set of brain regions (called nodes) and the connections between regions (called edges). Brain regions that carry out similar tasks are often densely interconnected by edges, forming what are called local communities within the larger network. Communication between these local communities tends to be facilitated by a select few nodes, which are referred to as critical nodes or network hubs. We analyzed the "smell network" to reveal the local communities and critical nodes that may influence odor processing.
In the second dataset of 32 individuals, we applied the graphic organization isolated above to their brain activity and correlated the organization efficiency indices with their performance on an odor discrimination task.
Results
We found that the smell network comprised brain regions from the frontal and temporal lobes. This network contained three communities (subnetworks), which have dense internal connections and are somewhat insulated from the other subnetworks. These subnetworks are composed in a manner closely aligned with the key facets of olfaction, including sensory processing (the yellow subnetwork), emotional processing (the red subnetwork), and decision making (the blue subnetwork). Nonetheless, these subnetworks maintain a certain degree of communication among each other via two "hubs," which were the amygdala (AMY) and anterior insula (INSa). This organization of tightly knit subnetworks that are externally linked by two hubs represents a high degree of network efficiency. Importantly, the degree that the subnetworks maintain internal connection and external insulation in an individual predicted their ability to discern distinct smells. Participants with more tightly clustered local communities were better able to discriminate different smells than individuals with more inter-community integration. The relationship between network organization and odor discrimination indicates the importance of distinct network communities, and the unique functional role of each community, in odor processing.
Interpretation
We characterized a large-scale network of brain regions, revealing the brain's architecture of smell. The composition and organization of this smell network supports the incredibly rich and complex sense of smell. Defined through a remarkably large and heterogeneous sample, this network can serve as a representative, reliable anatomical template to guide future research into the sense of smell.
Visit eNeuro to read the original article and explore other content. Read other summaries of eNeuro and JNeurosci papers in the Neuronline collection SfN Journals: Research Article Summaries.
Functional Connectome Analyses Reveal the Human Olfactory Network Organization. T. Campbell Arnold, Yuqi You, Mingzhou Ding, Xi-Nian Zuo, Ivan de Araujo and Wen Li eNeuro 29 May 2020, 7 (4) ENEURO.0551-19.2020; DOI: 10.1523/ENEURO.0551-19.2020