The Role of Neuronal Glycerolipid Metabolism in Regulating Axon Regeneration
In this video, Kai Liu discusses how directing neuronal lipid metabolism away from triglyceride synthesis and toward phospholipids synthesis may promote axon regeneration in adult nervous system.
Speaker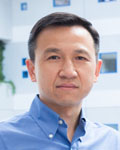 Kai Liu, PhD
Kai Liu is currently Cheng associate professor of Science in Division of Life Science at The Hong Kong University of Science and Technology (HKUST). Liu received his bachelor degree from School of Life Sciences at Peking University and received his PhD from Rutgers University at New Brunswick. Then he did his postdoc research at Children's Hospital Boston/Harvard Medical School. His research interest focuses on the molecular and cellular mechanisms regulating axonal regeneration.