August 09, 2023
1:00 PM - 2:00 PM EDT
The associations between brain function and behavior remain elusive. This lack of knowledge prevents effective interventions in the field of mental health. With the availability of large datasets it is becoming clearer that such associations are dominated by small effects, requiring large amounts of data for reproducible results. In this talk, Dr. Miranda-Dominguez will present several methodologies aimed to maximize reliability of findings using functional MRI and will describe how this knowledge can be used to design personalized interventions.
This was selected as a part of the Neuroscience 2022 programming.
Speaker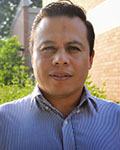 Oscar Miranda-Dominguez, PhD
Oscar Miranda-Dominguez is an Assistant Professor at the University of Minnesota. He is interested in understanding how mental and neurological disorders affect brain circuitry and how this information can be used to design model-based approaches to therapeutics, including but not limited to adaptive interventions and non-invasive neuromodulation. He earned his BS in biomedical engineering from the Instituto Politecnico Nacional (Mexico), his master's degree on control engineering and automation from Tecnologico de Monterrey (Mexico), his PhD in biomedical engineering from the University of Minnesota and completed postdoctoral training from Oregon Health and Science University.
Who can attend these webinars? All webinars in this series are complimentary to SfN members. Join or renew for access. This webinar is $15 for non-members
Will the webinars be available on-demand? Yes, all webinars will be available to watch on-demand after the live broadcast.
How do I access the conference on the live day? After registering, you will receive a confirmation email with the event link and the option to download calendar reminders.
What are the technology requirements for attending? These webinars are hosted on Zoom Webinar. Instructions for joining and participating in a webinar can be found here.
Can I ask the presenters questions? Yes! You can submit any questions before the webinar through the registration form. During the webinar, you can submit questions through the Q&A box.
I have other questions not answered here. Email digitallearning@sfn.org with any other questions.