Revealing a Sexually Differentiated Neural Circuit for Sensing Social Stimuli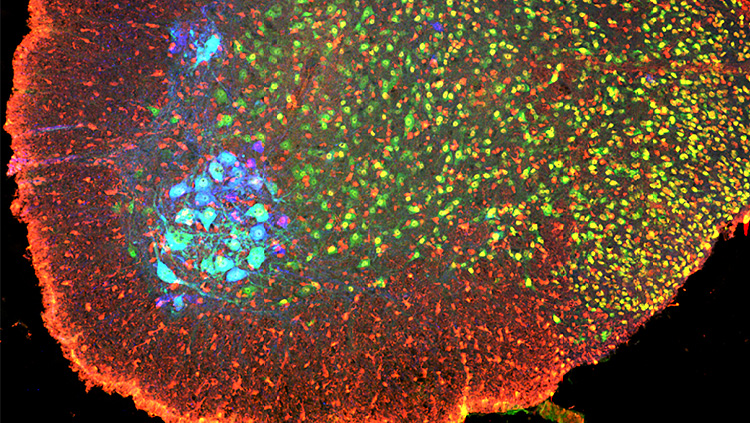 Material below summarizes the article Synaptic Connections of Aromatase Circuits in the Medial Amygdala are Sex Specific, published on May 29, 2020, in eNeuro and authored by Addison Billing, Marcelo Henrique Correia, Diane A. Kelly, Geng-Lin Li, and Joseph Bergan.
Highlights
Aromatase-producing cells in the mouse medial amygdala receive input originating from sensory cells in the vomeronasal organ that express a single class of receptors known to detect chemicals that convey information about the age, sex, and breeding condition of other mice.
We did not observe sex differences in the intrinsic electrophysiological properties of aromatase-producing cells in the medial amygdala; however, we found a robust anatomical sex difference in the number of synapses that connect the accessory olfactory bulb – and thus the vomeronasal organ - to these cells.
Males have nearly an order of magnitude more of these synaptic connections than do females, an anatomical difference that could play a role in shaping sex differences in social behaviors mediated by the medial amygdala.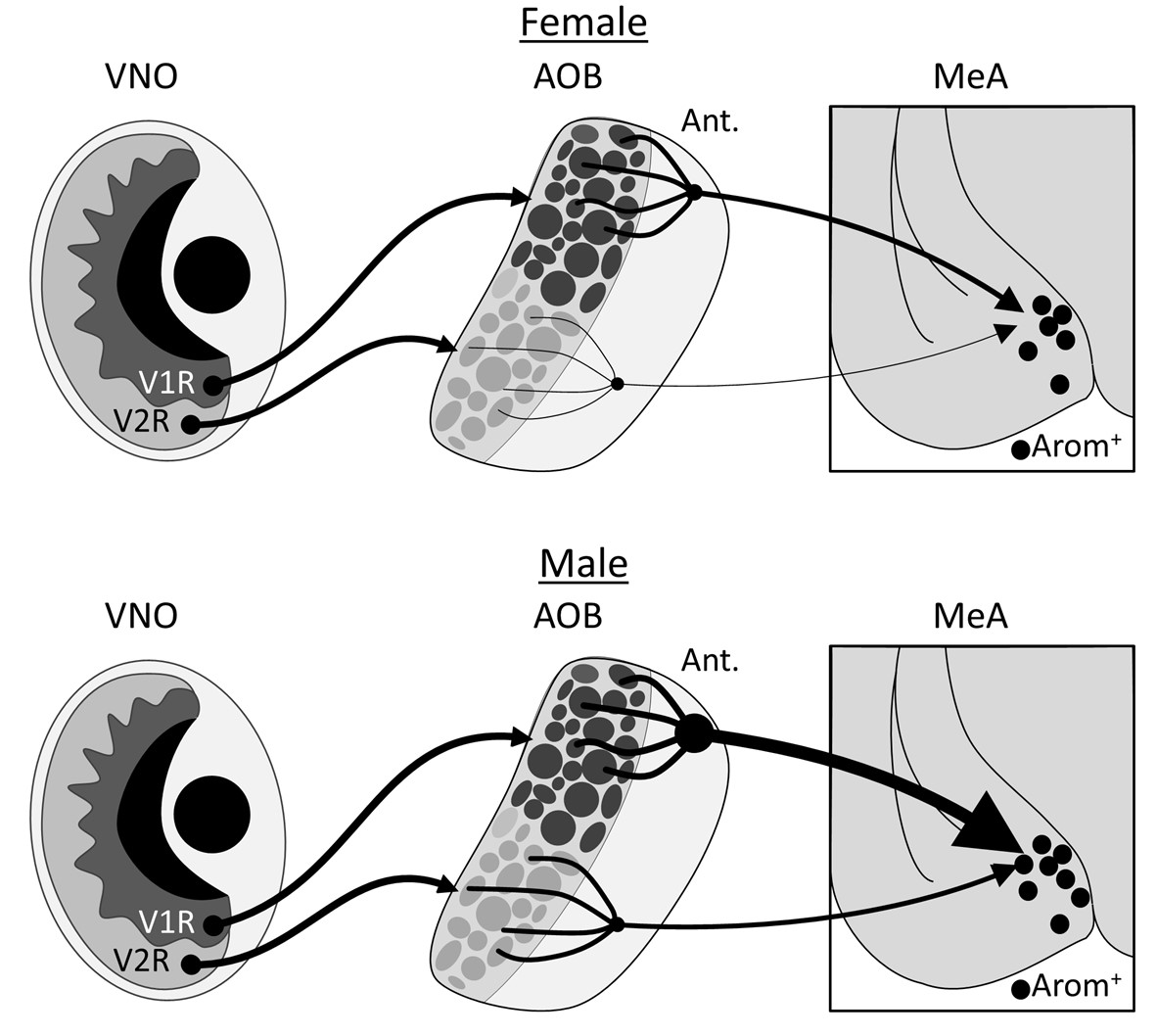 Increased miR-182 Expression in the aIC Reduces Local QR2 mRNA Levels and Improves Novel Taste Learning. Gould, N.L. et al. eNeuro.0067-20.2020 (2020).
Study Question
Are there sex differences in circuit anatomy and/or function that might produce the sex differences observed in the social behaviors mediated by the medial amygdala?
How This Research Advances What We Know
Mice broadcast their sex, age, and reproductive availability to other mice with chemical markers that they detect with sensory cells inside a structure called the vomeronasal organ (VNO) that is embedded in the nasal septum. Signals from these cells are relayed to the medial amygdala (MeA), a brain region that is a hub for social behavior processing, in a two neuron circuit that passes through the accessory olfactory bulb (AOB). The MeA is known to show sex differences when processing scent information about the sex of another mouse, implying that sex differences exist in the anatomy and function of its circuits. We investigated whether these differences could be found in a subset of MeA neurons that produce aromatase, a key enzyme for producing estradiol, a hormone which plays a critical role in establishing and maintaining sex-specific social behaviors.
Experimental Design/Methodology
We used mice genetically engineered to express red fluorescent protein in neurons that produce aromatase in the brain. This trait let us distinguish these cells from other neuron types inside the medial amygdala and to examine the electrophysiological behavior of neurons that make aromatase versus those that do not in the medial amygdala. We also injected a virus into the medial amygdala that would carry a green fluorescent label from infected aromatase-positive cells across incoming synapses to upstream neurons in their circuits. We then rendered these brains transparent and imaged them with a lightsheet microscope; these data let us reconstruct the paths and connections of all labeled neurons. In both parts of the study, we analyzed data with unpaired t-tests and a mixed model ANOVA.
Results
Our electrophysiological tests of the MeA found little evidence of sex differences in aromatase-producing cells for an array of critical electrophysiological properties including: input resistance, threshold voltage for eliciting an action potential, and the number of action potentials produced at specific current levels. We also found no sex differences for these characteristics in aromatase-negative neurons. Instead, we found that aromatase-producing cells in the MeA produced fewer action potentials in response to the same current levels than aromatase-negative neurons, suggesting that aromatase defines a class of MeA neurons with shared electrophysiological properties.
Our neuron tracing tests showed that the inputs to aromatase-producing MeA neurons from the anterior olfactory bulb (AOB) originate almost entirely from its anterior region; and their dendritic arbors were predominantly associated with glomeruli that receive sensory information from V1R cells in the vomeronasal organ. Males had significantly more of these inputs than females, even after we normalized for the number of neurons initially infected in the MeA.
Interpretation
Aromatase-expressing neurons in the medial amygdala have been implicated as key parts of the pathways that mediate social behaviours in mice; our results show that these cells are in a circuit with sensory cells that respond to chemicals that convey social signals. The number of these connections shows a robust sex difference: on average, each aromatase-expressing neuron in the male MeA gets inputs from almost an order of magnitude more AOB neurons than are seen in the female MeA. We found no evidence of sex differences in the intrinsic electrophysical properties of this subset of MeA neurons, suggesting that the difference in the volume of synapses connecting the AOB to the MeA could help create the sex differences in mouse social behaviors mediated by this region. An exciting future goal will be to understand the functional implications of this sex difference in circuit anatomy.
Visit eNeuro to read the original article and explore other content. Read other summaries of eNeuro and JNeurosci papers in the Neuronline collection SfN Journals: Research Article Summaries.
Muscarinic-Dependent miR-182 and QR2 Expression Regulation in the Anterior Insula Enables Novel Taste Learning. Nathaniel L. Gould, Alina Elkobi, Efrat Edry, Jonathan Daume, and Kobi Rosenblum. eNeuro 26 March 2020, 0067-20.2020; DOI: 10.1523/ENEURO.0067-20.2020