Pío del Río Hortega: Notes from His Grandnephew
In this video, Juan del Rio Hortega, the grandnephew of Pio del Rio Hortega, describes the historical context in which microglia were first discovered, through readings of the original correspondence between Pio del Rio Hortega and several scientists, including Ramon y Cajal.
Speaker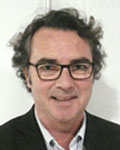 Juan del Río Hortega Bereciartu, MD
Juan del Río-Hortega Bereciartu is a professor of history of medicine at the University of Valladolid, Spain. Bereciartu has edited the publication of the correspondence of his grand-nephew Pio del Río Hortega. He is a medical doctor and is the vice-president of the Colegio Oficial de Medicos de Valladolid.