Input-Independent Homeostasis of Developing Thalamocortical Activity

June 22, 2021
12:00 PM - 1:00 PM ET
Join this interactive session as Matthew Colonnese discusses his recent eNeuro paper, "Input-Independent Homeostasis of Developing Thalamocortical Activity." After the talk, eNeuro Editor-in-Chief Christophe Bernard will moderate the discussion and take questions from the audience. You can submit questions through registration and will have the opportunity to pose questions during the webinar through a Q&A box.
Below is the significance statement of Input-Independent Homeostasis of Developing Thalamocortical Activity, published on May 4, 2021, in eNeuro and authored by Pouria Riyahi, Marnie A Phillips, and Matthew T Colonnese.
Uncovering the mechanistic underpinnings of EEG development is critical to increasing the diagnostic potential of this cheap and portable methodology. An important component of this maturation is the acquisition of activity that is continuous, i.e. lacking silent periods. Here we used background activity in the visual cortex of developing unanesthetized mice to show that the primary sensory input plays little role in the development of continuity and normal firing rates, which instead appear to be regulated by mechanism internal to thalamus and cortex. These findings suggest that damage to driving thalamic inputs will be difficult to detect by EEG, and point to the importance of firing rate homeostasis in regulating even early development.
Speakers
Christophe Bernard, PhD
Christophe Bernard is the PhysioNet team leader in at the Institute of Neuroscience Systems at the French Institute of Health and Medical Research (INSERM). His research focuses on understanding how physiological and pathological behaviors emerge from the organization and reorganization of the underlying neuronal architecture, with an emphasis on epilepsy. He currently serves as Editor-in-Chief of eNeuro.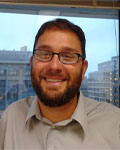 Matt Colonnese, PhD
Matt Colonnese is an associate professor at The George Washington University. Colonnese's work is dedicated to understanding the form and function of early brain activity. He earned his PhD in neuroscience from Yale University and completed postdoctoral training at MIT where he developed the first infant rat fMRI, and later at the Neuroscience Institute of the Mediterranean (INMED) in Marseille, France, where he worked closely with neonatologists to create a validated animal model of infant EEG development using the visual system.