Innate Silent Gap Pattern for Own-Species Song Detection
In this talk, Makoto Araki discusses how zebra finches can be used to study the neural basis of learning and communication.
Speaker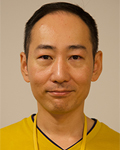 Makoto Araki, PhD
Makoto Araki is a staff scientist at the Okinawa Institute of Science and Technology Graduate University (OIST). His research focuses on auditory neuronal circuit encoding of species-specific courtship songs in the zebra finch songbird. He earned his PhD in biological sciences from the Hokkaido University and completed postdoctoral training at OIST.