How SfN's Founding Hopes Still Fuel Goals for the Next 50 Years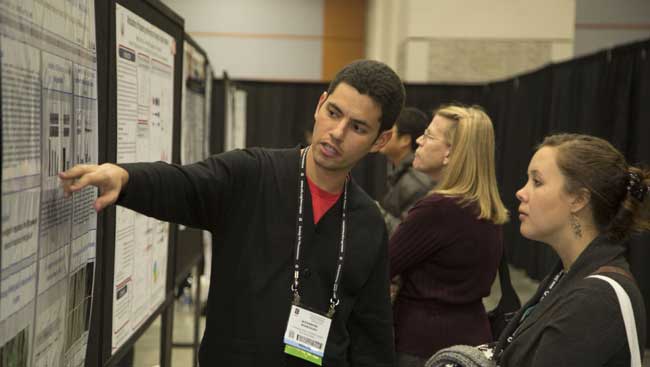 In 1971, at the very first plenary session of the newly formed Society for Neuroscience (SfN), Vernon Mountcastle delivered his keynote address as the first SfN president. He took stock of the great achievements of the 1960s, which led to the formation of SfN, and looked forward to how this new group would shape neuroscience and society in the years to come.
Now, as we mark the 50th anniversary of the society's founding, SfN's Trainee Advisory Committee (TAC) took on the same task — below and in their Journal of Neuroscience article, The Next 50 Years of Neuroscience — reflecting on a foundation of astounding work and predicting what the next 50 years will hold. Separated by time and space, Mountcastle's words echo in the hearts and minds of the newest generation of scientists.
Reverence for Technological Accomplishment across Disciplinary Lines
The innovations of the 1960s using microscopy, biochemisty, and electrophysiology informed understanding of cellular metabolism, axonal transport, trophic signaling, glial function, genetic control of neuronal wiring, and critical periods in brain development. Most prominent at the time was the work to clarify the nature of chemical and electrical synaptic transmission and neurotransmitter function using all available tools, which truly eradicated disciplinary lines. It was this style of cross-disciplinary work that gave rise to the fledgling field of Neurobiology/Neuroscience. The next 50 years saw previously unfathomable technological advances such as patch-clamp electrophysiology, PCR, and genomic sequencing —all new for Mountcastle at the time — that are now the foundations of the field.
Looking ahead, we see optical electrophysiology, high-density multi-site electrical recordings, and circuit-based manipulation as the launchpad for the next 50 years of neuroscience that will draw expertise from mathematical and statistical modeling, computational modeling, and machine learning to answer many new neuroengineering questions.
Expansion of Theoretical Neuroscience and the Frontier of Consciousness
Mountcastle was passionate about work relating to movement regulation and noted that, for once, theoretical models were not keeping pace with the data being generated. He called for a new set of theoretical constructs for the central control of movement generation to make sense of the current data and to guide future experiments. We are again at a crossroads where data has outpaced theory, and once again call for a new generation of theorizing on structure and function relationships to make sense of the mammalian connectome data being generated at a staggering pace.
As Mountcastle highlighted then, we still tout the use of smaller models to understand the emergent properties of complex networks. Mountcastle suggested using a part, specifically the ganglion, to study the whole, while we extol the virtues of using cultured brain organioids to model more complex phenomena. Such modeling could provide a window into understanding human consciousness, which was as much a goal for Mountcastle and SfN in 1971 as it still is today.
Role of the Neuroscientist in the Public
Unlike other disciplines, neuroscience studies the very foundations of humanity, how our brains drive the actions we take. This knowledge gives us a deep responsibility to society. In 1971, Mountcastle expressed that as scientists, we should be a consultative resource to public figures who design policy, and felt the new society, SfN, had the opportunity to define the most effective route for such consultation. Today, we note many realms where neuroscience is actively informing policy or where more influence could be leveraged, specifically in education, criminal justice, and marketing. As we move forward, it is imperative we use our research to shape humane, compassionate, evidence-based public policy.
Mountcastle also called on the society to lead in informing the general public, not only about scientific advances, but also about the crucial need for continued investment of brain research. Although he warned about gaining public support by promising more than we as a field can realistically deliver, today we're in the midst of many massive scale neuroscience initiatives, such as the National Institutes of Health's BRAIN Initiative, the Human Brain Project in the European Union, and the Brain/MINDS project in Japan. We look hopefully toward a future informed by the innovations born of these efforts.
Looking to the Future
Today we are still grappling with some of Mountcastle's worries, specifically how to be trained in sufficient depth on any one component of neuroscience while still comprehending the ever-widening breadth of our field. He also reminds us that although we deal in data and measurement professionally, as human beings we are not "more objective, dispassionate, impartial or tolerant than any other group of people." Now more than ever, we must shape the second half century of the field with a stronger, diverse perspective.
When Mountcastle gave his speech, he highlighted how difficult it is to solve the issue of the social responsibility of neuroscientists. 50 years later, we want to emphasize our need for a more inclusive future, including the responsibility of producing more diverse research. Taking advantage of the unique moment we live in now, SfN should leverage its power to influence community change. We believe this is an important part of the social responsibility Mountcastle was imagining 50 years ago. All the more now, we should stay connected and build a more inclusive research environment, valuing and celebrating the diversity of SfN members.