HIF-1α and Multiple Sclerosis: A Case Not Yet Proven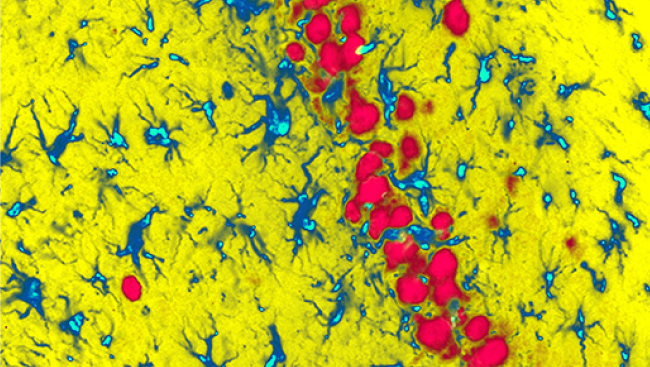 Material below summarizes the article Hypoxia Inducible Factor-1α in Astrocytes and/or Myeloid Cells Is Not Required for the Development of Autoimmune Demyelinating Disease, published on March 30, 2015, in eNeuro and authored by Natacha Le Moan, Kim M. Baeten, Victoria A. Rafalski, Jae Kyu Ryu, Pamela E. Rios Coronado, Catherine Bedard, Catriona Syme, Dimitrios Davalos, and Katerina Akassoglou.
In biomedical research, as in many aspects of life, things are not always as simple as they first seem. It's easy to start barking up the wrong tree. Our recent work exposed one of those "trees" in multiple sclerosis (MS): We found that a specific protein called hypoxia-inducible factor-1α, or HIF-1α, is likely not a main culprit in MS. However, we did learn a lot about what HIF-1α does in disease processes in the nervous system.
MS is a complicated disease characterized by damage to the protein insulation of nerve fibers. This damage occurs in a process called demyelination, in which the normal myelin around axons of the central nervous system is lost. MS involves an autoimmune response in which the body's immune system attacks its own nervous system. In this disease, the nervous system is also damaged by blood proteins that seep into it across the blood-brain barrier.
Sadly, there are no drugs that cure the disease. To find new targets for new drugs, scientists often look for things that are different between healthy and diseased patients, and they have already found some candidate targets in MS.
HIF-1α is an obvious candidate. It controls a wide set of genes that help protect the nervous system from inflammation. Additionally, MS patients have much more HIF-1α in their body than healthy people, particularly in their glia, neurons, and inflammatory cells of the central nervous system (CNS). These patients also have changes to their tissues that are similar to those caused by hypoxia or a lack of oxygen.
Thus, we hypothesized that HIF-1α expression contributes to demyelination caused by inflammation in MS. To test this hypothesis, we used a mouse model of MS called experimental autoimmune encephalomyelitis (EAE). In this model, the levels of HIF-1α are dramatically upregulated in specific cells of the nervous system, including astrocytes and myeloid cells.
In EAE mice, we increased and decreased the amount of HIF-1α. This strategy has worked well in determining the function of HIF-1α in other tissues. In our experiments, we decreased HIF-1α by genetically ablating the gene for HIF-1α, and we increased it by removing an inhibitor of the gene to cause more HIF-1α to be made. We found that, at the peak of EAE, HIF-1α was mainly expressed in astrocytes and microglia/macrophages in the mouse spinal cord. However, we also found that decreasing the amount of HIF-1α in these cells did not reduce the symptoms of the disease in the mice. Conversely, we removed Von Hippel Lindau (VHL), a protein that reduces levels of HIF-1α, but this failed to worsen the disease. These findings were quite surprising.
Although HIF-1α seemed like an ideal candidate in the pathogenesis of MS, we found that increasing or decreasing the protein had no real effect in the specific cells that we examined in EAE mice (i.e., astrocytes and inflammatory cells of the white matter). Prior experiments by other laboratories removed HIF-1α in other cell types, such as oligodendrocytes or subsets of T cells, which reduced EAE pathology. So, surprisingly HIF-1α appears to affect the development of inflammatory disease depending on the cell type that expresses it. However, we still need to complete additional experiments to fully understand the function of HIF-1α in inflammatory demyelinating diseases, such as MS. So, the case for HIF-1α in MS has not yet been made.
Visit eNeuro to read the original article and explore other content. Read other summaries of JNeurosci and eNeuro papers in the Neuronline collection SfN Journals: Research Article Summaries.
Hypoxia Inducible Factor-1α in Astrocytes and/or Myeloid Cells Is Not Required for the Development of Autoimmune Demyelinating Disease. Natacha Le Moan, Kim M. Baeten, Victoria A. Rafalski, Jae Kyu Ryu, Pamela E. Rios Coronado, CatherineBedard, Catriona Syme, Dimitrios Davalos, Katerina Akassoglou. eNeuro Mar 2015, 2 (2). DOI: 10.1523/ENEURO.0050-14.2015