Glia: A Historical Perspective
In this video, Helmut Kettenmann talks about the state of neuroscience research at the beginning of the 20th century, and describes the discovery of microglia by Pio del Rio-Hortega.
Speaker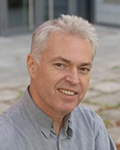 Helmut Kettenmann, PhD
Helmut Kettenmann is a professor at the Max Delbrück Center for Molecular Medicine. He previously founded the "European Meeting on Glial Cells in Health and Disease" in 1994 and continues to organize these conferences. Kettenman's research focuses on understanding the physiological and pathological roles of glial cells. He studied biology at University of Heidelberg and carried out his thesis at the Institute of Neurobiology at the University of Heidelberg.