April 05, 2023
1:00 PM - 2:00 PM ET
Humans flexibly accomplish many diverse tasks in the service of their goals. This ability appears to depend on coordinated interactions among brain regions that form large-scale networks. Many open questions remain regarding how networks are organized, how they vary across people and time, and how they contribute to complex goal-directed functions. Dr. Gratton will discuss her path toward an individually-focused "precision" approach to measuring human brain networks and insights from this work.
Speaker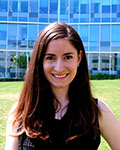 Caterina Gratton, PhD
Caterina Gratton is an Associate Professor at Florida State University. She was previously an Assistant Professor at Northwestern University. Dr. Gratton's main research interests lie in understanding large-scale human brain networks and how they contribute to complex, goal-directed behavior. She received her undergraduate degree in Psychology and Neuroscience from the University of Illinois and her PhD in Neuroscience from the University of California, Berkeley. She completed her postdoctoral training at Washington University in St. Louis.
Who can attend these webinars? All webinars in this series are complimentary to SfN members. Join or renew for access. This webinar is $15 for non-members
Will the webinars be available on-demand? Yes, all webinars will be available to watch on-demand after the live broadcast.
How do I access the conference on the live day? After registering, you will receive a confirmation email with the event link and the option to download calendar reminders.
What are the technology requirements for attending? These webinars are hosted on Zoom Webinar. Instructions for joining and participating in a webinar can be found here.
Can I ask the presenters questions? Yes! You can submit any questions before the webinar through the registration form. During the webinar, you can submit questions through the Q&A box.
Will a certificate of attendance be offered for this event? No, SfN does not provide certificates of attendance for webinars.
I have other questions not answered here. Email digitallearning@sfn.org with any other questions.