Familial Dysautonomia and Parkinson's Disease: Induced Pluripotent Stem Cell Models of Disease
Lorenz Studer, director at Sloan-Kettering's Center for Stem Cell Biology, discusses using induced pluripotent stem cells to model human diseases and development. He mentions that modeling an "aged" brain is more difficult than modeling a juvenile brain because it requires researchers to artificially induce age-like features in the cells.
Speaker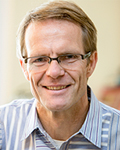 Lorenz P. Studer, MD
Lorenz Studer is the director of the Center for Stem Cell Biology and a member of the developmental biology program at the Memorial Sloan Kettering Cancer Center. His lab has established many of the currently available techniques for turning pluripotent stem cells into the diverse cell types of the nervous system. His primary research interest is in regenerative medicine, and he leads a multidisciplinary consortium to pursue the clinical application of human stem cell-derived dopamine neurons for the treatment of Parkinson's disease.