Elucidating Cuttlefish Camouflage
In this talk, Sam Reiter discusses how the cuttlefish's camouflage response serves as a model of an innate complex behavior and convergent evolution.
Speaker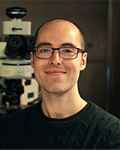 Sam Reiter, PhD
Sam Reiter is a postdoctoral researcher in the department of neural systems and coding at the Max Planck Institute for Brain Research. He earned his undergraduate degree in neuroscience from Brown University and his PhD in neuroscience from the NIH-Brown Graduate Partnership Program. His current research is on the relationship between the brain and behavior, with a recent focus on quantitative measurements of cuttlefish skin patterning.