Dialogues Between Neuroscience and Society: Human-Centered AI
Fei-Fei Li, codirector of the Stanford Institute for Human-Centered Artificial Intelligence, is both a scientist and an ethical leader advocating for artificial intelligence that makes improving human lives its goal.
In this 2019 Dialogues Between Neuroscience and Society lecture, Li discusses the transformative potential of AI for society in relation to the three parts of "human-centered AI": that its development must be guided by concern for human impact, that it should augment, not replace, humans, and that it should be inspired by human intelligence. She also describes her research and collaborations in the field of computer vision.
Speaker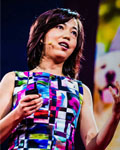 Fei-Fei Li, PhD
Fei-Fei Li is professor of computer science and co-director of the Stanford University Human-Centered AI Institute (HAI). Li earned her PhD degree in electrical engineering from California Institute of Technology. Fei-Fei Li's main research areas are in machine learning, deep learning, computer vision and cognitive and computational neuroscience. She is a pioneering expert in AI and the inventor of ImageNet, a critical large-scale dataset and benchmarking effort that has contributed to the latest developments in deep learning and AI. In addition to her technical contributions, Li is a national leading voice for advocating diversity in STEM and AI. She is co-founder and chairperson of the national non-profit AI4ALL aimed at increasing inclusion and diversity in AI education.