Deciphering the Neural Epitranscriptome: The Role of m6A RNA Modification in Neurodevelopment
In this video, Ki-Jun Yoon discusses functional distribution of chemical modifications on RNA — or epitranscriptomic modifications — during the development of the nervous system.
Speaker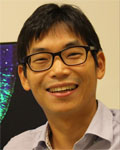 Ki-Jun Yoon, PhD
Ki-Jun Yoon is an assistant professor in the department of biological sciences at Korea Advanced Institute of Science and Technology. Yoon earned his BS in biology and PhD in developmental genetics from Pohang University of Science and Technology, in Korea, and completed postdoctoral training with Hongjun Song and Guo-li Ming, from the University of Pennsylvania. His laboratory is focusing on the molecular mechanisms controlling RNA metabolism in neural stem cells during normal development and how alterations in RNA regulatory programs lead to human brain disorders.