Last Updated on May 16, 2022: This event has been postponed. A new date will be announced shortly.
Mala Murthy will highlight discoveries from her lab on the neural mechanisms and computations underlying social communication in the Drosophila model system and the many parallels with communication strategies in other animals, including humans. She will explain the important role of developing quantitative tools for studying behavior. She will also discuss the choices that led her and her lab down this research path and the role of effective communication in science.
This webinar is complimentary for SfN members and $15 for non-members. Not a member? Join or renew to receive member access to webinars.
Speaker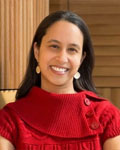 Mala Murthy, PhD
Theme D — Sensory Systems Mala Murthy is professor of neuroscience at Princeton University. Murthy's lab focuses on neural mechanisms that underlie social communication, using the fruit fly Drosophila as a model system. Murthy earned her BS in biology from Massachusetts Institute of Technology, her PhD in neuroscience from Stanford University, and completed postdoctoral work in systems neuroscience at California Institute of Technology.
Who can attend these webinars? All webinars in this series are complimentary to SfN members. Join or renew for access. These webinars are $15 for non-members.
Will the webinars be available on-demand? Yes, all webinars will be available to watch on-demand one week after the live broadcast.
Will a certificate of attendance be offered for this event? No, SfN does not provide certificates of attendance for webinars.
How do I access the conference on the live day? After registering, you will receive a confirmation email with the event link and the option to download calendar reminders.
What are the technology requirements for attending? These webinars are hosted on Zoom Webinar. Instructions for joining and participating in a webinar can be found here.
Can I ask the presenters questions? Yes! You can submit any questions before the webinar through the registration form. During the webinar, you can submit questions through the Q&A box.
I have other questions not answered here. Email digitallearning@sfn.org with any other questions.
Review SfN's Code of Conduct, rules for virtual events in the Digital Learning Community Guidelines, and communications policies regarding dissemination of unpublished scientific data, listed below. SfN asks that conference attendees respect the sensitivity of information and data being presented that are not yet available to the public by following these guidelines:
Do not capture or publicly share details of any unpublished data presented.
If you are unsure whether data is unpublished, check with the presenter.
Respect presenters' wishes if they indicate that the information presented is not to be shared.