Characterizing Vibration Frequency Sensitivity and Neural Activity in Escaping Earthworms
In this video, Ulises Ricoy and Andres Romero discuss how the earthworm can be used as a low-cost animal model to study escape behaviors at an undergraduate serving institution.
Speaker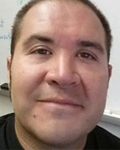 Ulises Ricoy, PhD
Ulises Ricoy is dean of the College of Arts and Sciences and associate professor of biology at Northern New Mexico College (NNMC), a rural Hispanic/Native American-Serving Institution. He has championed faculty and undergraduate team experiences initiatives via collaborations with the University of Pittsburgh, the University of Massachusetts, Cornell University, and the Argonne and Los Alamos national laboratories. His research focuses on low-cost approaches to examine behavior and neurophysiology in invertebrate organisms. He earned his BS and PhD in behavioral neuroscience from the University of Texas at San Antonio under the direction of Dr. Joe L. Martinez Jr. and completed postdoctoral training in synaptic biophysics at Oregon Health Sciences University. With Andres Romero he has been characterizing vibration frequency sensitivity and neural activity in escaping earthworms.