Characterizing Neuronal Cell Types by Single-Nucleus Methylome Sequencing
In this video, Zhuzhu Zhang explains how to use single-nucleus methylome sequencing to profile neuronal cell types.
Speaker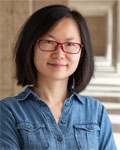 Zhuzhu Zhang, PhD
Zhuzhu Zhang is a postdoctoral fellow on Joseph Ecker's team at the Salk Institute for Biological Studies. She received her MS in developmental biology from Purdue University and completed her PhD in computational biology and bioinformatics as well as MS in statistics at the University of North Carolina, Chapel Hill. Zhang's research focuses on epigenetic regulations in the brain, particularly the epigenetic mechanisms defining neuron cell types and connectivities in both healthy and disease states.