Causal Role of Striatal Cholinergic Interneurons in Behavioral Flexibility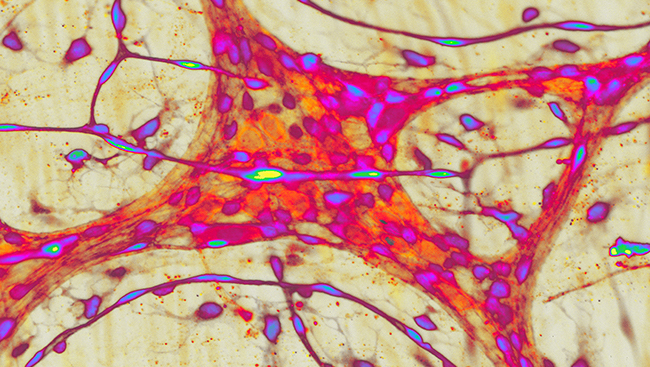 Material below summarizes the article Role of Striatal Cholinergic Interneurons in Set-Shifting in the Rat, published on June 24, 2015, in JNeurosci and authored by Sho Aoki, Andrew W. Liu, Aya Zucca, Stefano Zucca, and Jeffrey R. Wickens.
Surviving in this ever-changing world requires behaving flexibly according to situations and demands that are constantly fluctuating. This is a particular feature of the mammalian brain, but the mechanisms for behavioral flexibility are incompletely understood. To study these mechanisms requires refined tools for analysis of behavior, as well as selective ways to experimentally manipulate specific groups of neurons. The combination of sophisticated behavioral measures with cell-type-specific lesions targeting one particular class of neurons provides insight into the role of specific neurotransmitter systems.
Past studies have shown that several brain structures, including the prefrontal cortex and striatum, contribute to behavioral flexibility. A logical extension of these studies is to ask what types of neurons are involved in this ability. Recently developed immunological methods provide a means to selectively lesion a specific type of neuron, enabling the investigation of their causal role in behavioral flexibility. We focused on the cholinergic interneurons of the striatum. These neurons are numerically few in number, numbering less than 2 percent of the total neurons in the striatum, but they produce high concentrations of acetylcholine. They have previously been implicated in behavioral flexibility by pharmacological experiments with cholinergic antagonist drugs. However, these drugs cannot distinguish between acetylcholine released by the striatal cholinergic interneurons and other cholinergic systems in the brain.
To investigate the role of the cholinergic interneurons in behavioral flexibility, we used a set-shifting task. This is one of the conventional tests on behavioral flexibility, which has been applied in many species including humans, monkeys, and rodents. Successful completion of this task requires animals to shift their attention from one stimulus property (e.g., color) to another (e.g., shape) as the task progresses. We used this set-shifting task to investigate the effects of an immunotoxin-induced lesion of cholinergic interneurons in the striatum.
We prepared three different experimental conditions for a set-shift, all of which demanded a change between two strategies involving attention to different stimulus features. In all conditions, animals could choose between a left and a right lever in an operant box. Initially, animals had to learn "response strategy" in which they obtained a sucrose reward by pressing one side of levers (say, always a left lever). Subsequently, animals had to learn "visual cue strategy" in which they received a reward by selecting a lever indicated by a light cue that randomly illuminated above either lever. The three conditions required different types of attentional shifts in the subsequent visual cue learning. In the first condition, no light was given during initial trials in which the response strategy was required; the light cue was only present when the animals had to use the visual cue strategy. Thus, for a successful set-shift, animals had to respond to a previously absent but now novel cue. In the second condition, a light stimulus was always illuminated above the correct (left) lever during response-strategy trials, and continued to indicate the correct lever when the visual cue strategy was required. There, the visual cue had been relevant but not necessarily used for making a choice in the initial discrimination, so animals had to attend to a historically relevant cue. In the third condition, the light cue was randomly switched above either a left or right lever in the initial response-strategy trials, so it had to be ignored. Subsequently, animals had to pay attention to the light stimulus that had previously been irrelevant.
A selective cholinergic ablation was made by local injections of immunotoxin-targeting neurons containing choline acetyltransferase in the dorsomedial or ventral striatum. These two lesion groups were compared to a control group injected with saline. Across conditions and treatment types, initial acquisition of response strategy remained intact despite the lesion. This suggests that the striatal cholinergic interneurons are not required for initial discrimination. In contrast, when encountering a change of behavioral rules after the set-shift, either lesion made animals stick to a previously correct but now invalid response strategy. They also showed less exploratory behavior toward finding a new rule.
Most interestingly, ablation of cholinergic neurons in the dorsomedial striatum impaired a shift of set when it required attention to a previously irrelevant cue. On the other hand, ventral cholinergic lesions had an effect on a shift in which a novel stimulus was introduced as a new directional cue. Neither lesion had an effect on a shift if the light cue was historically relevant. These findings suggest that upon a change of behavioral rules striatal cholinergic interneurons play a specific role inhibiting the use of an old strategy and promoting exploration of a new rule. Furthermore, dorsomedial and ventral striatum cholinergic systems are differentially assigned to this function depending on environmental contexts.
Given the possibility that compensatory effects could occur after chronic lesions, future studies using genetic methods such as optogenetics and designer receptors exclusively activated by designer drugs (DREADDs) will allow dissection of the role of cholinergic interneurons still further. For example, they will make it possible to separate effects on learning from effects on performance, and isolate the critical time intervals in the decision-making process. This will deepen our understanding of the causal role of selected neurons, which will be especially powerful when these techniques are combined with a highly controlled behavioral paradigm.
Visit JNeurosci to read the original article and explore other content. Read other summaries of JNeurosci and eNeuro papers in the Neuronline collection SfN Journals: Research Article Summaries.
Role of Striatal Cholinergic Interneurons in Set-Shifting in the Rat. Sho Aoki, Andrew W. Liu, Aya Zucca, Stefano Zucca, Jeffrey R. Wickens. The Journal of Neuroscience June 2015, 35(25): 9424-9431; DOI: 10.1523/JNEUROSCI.0490-15.2015