January 04, 2023
1:00 PM - 2:00 PM ET
This webinar is complimentary for SfN members and $15 for non-members. Not a member? Join or renew to receive member access to webinars.
The presenter describes how an infant/preschool psychiatrist evolved as a researcher in collaboration with neuroscientists to investigate the neural correlates of emotion development and risk for psychopathology. The integration of phenomenological and neural data in early childhood and balancing these domains in a multi-disciplinary research team will be discussed. To design studies with high potential for clinical translation, we have integrated of neural data into clinical trials. New ventures integrating human and animal models towards this end will also be described.
Speaker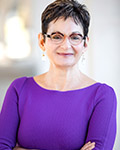 Joan L. Luby, MD
Joan Luby, M.D. is a child and adolescent psychiatrist who focuses on early childhood mood disorders and how these early onset disorder are related to alterations in emotional development.  She has conducted longitudinal studies of neurodevelopment and has also focused on the ways the early psychosocial environment shapes brain development particularly during sensitive periods.
Who can attend these webinars? All webinars in this series are complimentary to SfN members. Join or renew for access. This webinar is $15 for non-members
Will the webinars be available on-demand? Yes, all webinars will be available to watch on-demand after the live broadcast.
How do I access the conference on the live day? After registering, you will receive a confirmation email with the event link and the option to download calendar reminders.
What are the technology requirements for attending? These webinars are hosted on Zoom Webinar. Instructions for joining and participating in a webinar can be found here.
Can I ask the presenters questions? Yes! You can submit any questions before the webinar through the registration form. During the webinar, you can submit questions through the Q&A box.
Will a certificate of attendance be offered for this event? No, SfN does not provide certificates of attendance for webinars.
I have other questions not answered here. Email digitallearning@sfn.org with any other questions.
Review SfN's Code of Conduct, rules for virtual events in the Digital Learning Community Guidelines, and communications policies regarding dissemination of unpublished scientific data, listed below. SfN asks that conference attendees respect the sensitivity of information and data being presented that are not yet available to the public by following these guidelines:
Do not capture or publicly share details of any unpublished data presented.
If you are unsure whether data is unpublished, check with the presenter.
Respect presenters' wishes if they indicate that the information presented is not to be shared.
Webinar Refund Policy
What is the cancellation/refund policy for webinars?
If SfN changes fundamental details of the webinar (date, time, or speakers), non-member registrants may request a registration refund. To request a refund, please email digitallearning@sfn.org at least 48 hours before the event. Otherwise, refunds are not provided. All webinars are complimentary to SfN members.
SfN webinars can be watched on-demand if someone is unable to attend the live broadcast.