A Neuropeptide Trumps GABA in a Neuroendocrine Circuit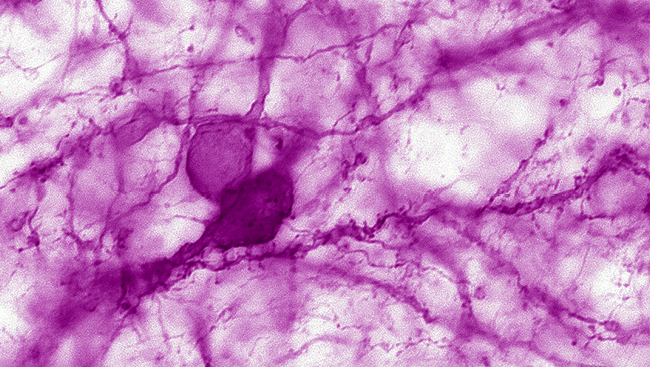 Material below summarizes the article Dominant Neuropeptide Cotransmission in Kisspeptin-GABA Regulation of GnRH Neuron Firing Driving Ovulation, published on July 11, 2018, in JNeurosci and authored by Richard Piet, Bruna Kalil, Tim McLennan, Robert Porteous, Katja Czieselsky, and Allan E. Herbison.
Fertility in all mammals is governed by a small population of neurons scattered in the basal forebrain that secrete gonadotropin-releasing hormone (GnRH).
GnRH neurons project to the median eminence and release GnRH into the pituitary portal blood system. In the anterior pituitary, GnRH stimulates secretion into the blood of the gonadotropins follicle-stimulating hormone and luteinizing hormone (LH), which in turn act in the gonads to promote gametogenesis and sex steroid hormone production.
In females, elevated secretion of the sex steroid estrogen, by the ovaries signals ovarian follicle maturity to GnRH neurons, eventually culminating in mass activation of these neurons and in the surge in LH secretion that triggers ovulation.
In rodents, the estrogenic excitatory signal — also known as estrogen positive feedback — is conveyed to GnRH neurons via a region of the preoptic area of the hypothalamus called the rostral periventricular region of the third ventricle (RP3V).
Although many cell-types reside in the RP3V, research carried out over the past 15 years has indicated neurons express the neuropeptide kisspeptin, which relays estrogen positive feedback and activate the GnRH neurons for the LH surge and ovulation.
Despite this wealth of evidence, direct demonstration the RP3V kisspeptin neuron to GnRH neuron microcircuit can drive the LH surge was lacking. Furthermore, a subpopulation of RP3V kisspeptin neurons co-express GABA, the amino acid neurotransmitter.
Because GABA acting at GABAA receptors in GnRH neurons — unlike in other adult neurons — can be excitatory, the question arose of how GnRH neurons integrate GABAergic and kisspeptinergic excitatory signals to drive LH secretion.
To address these questions, we took advantage of existing mouse strains and adeno-associated viral vectors to express the blue-light sensitive cation channel channelrhodopsin (ChR2) into genetically-defined subpopulations of RP3V neurons (kisspeptin-expressing or GABA-expressing) to selectively drive their activity.
We combined this approach with brain slice electrophysiological recordings of GnRH neurons expressing green fluorescent protein to assess the impact of electrical activity in RP3V neurons on action potential firing in GnRH neurons. We also used in vivo serial blood sampling and hormone assays to determine the effect of activating subpopulations of RP3V neurons on LH secretion.
In brain slices, driving activity in RP3V kisspeptin neuron axons with blue light potently increased action potential firing in GnRH neurons. These responses had all the hallmarks of a neuropeptide's actions: GnRH neuron activation appeared after a delay, outlasted the stimulation, and required moderate to high frequency presynaptic activity.
Together, this suggested blue-light stimulation released kisspeptin onto GnRH neurons, causing their activation. In vivo, stimulation of ChR2-expressing RP3V kisspeptin neurons evoked LH secretion comparable to that seen during the preovulatory surge, but this effect was absent in mice lacking a functional kisspeptin gene. Kisspeptin release thus increases GnRH neuron activity and causes surge-like LH secretion.
In addition to neuropeptidergic responses, a subpopulation of GnRH neurons exhibited a transient increase in action potential firing in brain slices, which started at the onset of the blue-light stimulation and was prevented by a GABAA receptor antagonist. This revealed that in addition to kisspeptin, a subpopulation of RP3V kisspeptin neurons co-released GABA onto GnRH neurons.
To study the impact of GABA release from RP3V neurons on LH secretion, we turned to another mouse strain in which we could express ChR2 in RP3V GABAergic neurons.
We reasoned a subset of these cells would co-express kisspeptin and that, because neuropeptide release — unlike that of amino acid neurotransmitters – requires sustained presynaptic activity, we could differentiate the actions of GABA from those of kisspeptin on LH secretion.
We first tested this hypothesis in brain slices: stimulation of ChR2-expressing RP3V GABA neuron axons resulted in increased action potential firing in GnRH neurons. However, the responses varied substantially depending on the frequency of stimulation.
We saw transient immediate responses, mediated by activation of GABAA receptors, in approximately 50 percent of GnRH neurons following stimulation at either two or 10 hertz.
Delayed, long-lasting increases in firing were also seen, but they were much more prevalent after stimulation of RP3V GABA fibers at 10 hertz. These long-lasting increases were unaffected by GABAA receptor blockade and had kinetics reminiscent of responses to stimulation of RP3V kisspeptin neurons.
We took these findings to mean stimulation at low frequency (two hertz) predominantly results in GABA release onto GnRH neurons, while stimulation at 10 hertz caused the release of GABA and a neuropeptide likely to be kisspeptin.
We then took these stimulation protocols to our in vivo experiments. While 10 hertz activation of RP3V GABA neurons evoked LH secretion similar to that seen during stimulation of RP3V kisspeptin neurons, two Hz stimuli did not cause substantial increases in LH secretion, suggesting that kisspeptin release is the main determinant of LH secretion.
We think our experiments provide a missing piece of the puzzle: activation of RP3V kisspeptin neurons and release of kisspeptin is sufficient to promote electrical activity in GnRH neurons and cause surge-like secretion of LH from the anterior pituitary.
Importantly, our results clarify the role of the different transmitters expressed by RP3V neurons. Although GABA can transiently drive the electrical activity of GnRH neurons, the release of kisspeptin is crucial to evoke LH secretion.
More broadly, these studies reveal a rare occasion when neuropeptide co-transmitters can be more potent that their co-released small molecule transmitters — in this case, GABA.
Visit JNeurosci to read the original article and explore other content. Read other summaries of JNeurosci and eNeuro papers in the Neuronline collection SfN Journals: Research Article Summaries.
Dominant Neuropeptide Cotransmission in Kisspeptin-GABA Regulation of GnRH Neuron Firing Driving Ovulation. Richard Piet, Bruna Kalil, Tim McLennan, Robert Porteous, Katja Czieselsky, Allan E. Herbison. JNeurosci Jul 2018, 38 (28) 6310-6322; DOI: https://doi.org/10.1523/JNEUROSCI.0658-18.2018