How Presenting Your Research Can Help You Maintain a Questioning Spirit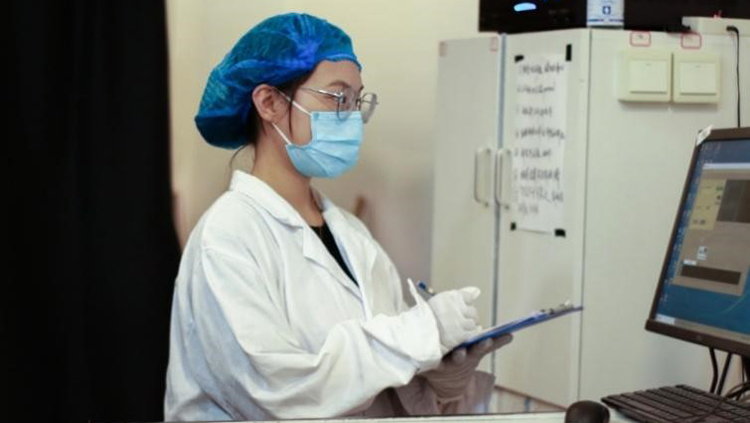 Attending and presenting my research on fear behavior in rodents at Neuroscience 2022 was a significant experience that challenged prevailing beliefs in the field.
In 2021, I joined the Laboratory for Learning and Behavioral Sciences at Fujian Normal University, led by Bin Yin. Our lab specializes in the fields of learning and memory as well as affective and cognitive computing. My specific interest lies in the study of fear emotion. Consequently, I am primarily engaged in a research program that focuses on understanding rodent fear-related affective states and behaviors. My goal is to refine rodent fear conditioning models to bridge the translational gap between animal and human studies.
Neuroscience 2022 marked my debut in presenting research, as well as attending SfN's annual meeting. I am incredibly grateful for the welcoming atmosphere SfN offers to emerging researchers like me; it has significantly bolstered my confidence in my scientific endeavors. While I initially hoped to present my work in person, circumstances led me to opt for a virtual presentation. Thankfully, this medium provided the unique benefit of participating from a comfortable environment, allowing me to center my attention on the content of my presentation rather than the nerves often associated with public speaking.
At Yin's Laboratory at Fujian Normal University, we conducted a comprehensive review of relevant studies using fear conditioning paradigms in rodents, focusing on analyzed fear indicators. Surprisingly, we observed a trend in neuroscience towards favoring single behaviors rather than considering multiple behavioral indicators. This observation prompted me to question the validity of commonly used measures of fear behavior and explore alternative interpretations.
As we all know, it can be disheartening when met with skepticism, but I firmly believe that scientific progress thrives on questioning prevailing theories and embracing new perspectives. The essence of science lies in skepticism and inquiry, as demonstrated by numerous groundbreaking discoveries and paradigm shifts throughout history.
To delve deeper into the theories related to fear, we examined the changes in behavioral indicators measured in fear studies. The traditional view perceives fear as an integrated signal triggered by a threat, leading to corresponding sensory, behavioral, and physiological changes (Fanselow, 2018). In contrast, the latest view defines fear as a subjective feeling, with behavioral and physiological changes representing defensive responses mediated by independent but interacting neural circuits (LeDoux & Pine, 2016). Our findings support a two-system model in the fear response of rodents, distinguishing between behavioral defensive responses and potential indicators of subjective fear experience. Undoubtedly, this hypothesis challenged the prevailing beliefs in the field, presenting a fresh perspective to consider.
Despite the challenges encountered in convincing other researchers of our findings, I maintained a positive research attitude throughout. I acknowledged the value of constructive criticism and actively engaged in meaningful discussions with my peers. These exchanges provided me with invaluable insights, allowing me to refine my arguments, consider alternative interpretations, and explore potential avenues for future research.
As a fledgling researcher, I have to acknowledge that my initial lack of a questioning spirit hindered the progress of my research. However, I was fortunate to have a supportive graduate advisor who recognized the importance of fostering a spirit of inquiry. Under his guidance, I actively participated in Neuroscience 2022 virtually, presenting a poster for the Theme J abstract session, History of Neuroscience.
The annual meeting served as a pivotal platform for nurturing my questioning spirit by immersing me in an intellectually stimulating environment that fosters and encourages open dialogue among researchers. It exposed me to cutting-edge research and diverse perspectives, broadening my horizons. The interdisciplinary nature of the event facilitated interactions with researchers from various backgrounds and areas of expertise, encouraging me to question the limitations of my own discipline and explore novel approaches to my research inquiries.
Scientific knowledge is constantly evolving as new discoveries and insights emerge. The question of the traditional theory, and the corresponding theoretical renewal, allow us to integrate these new findings into existing frameworks and theories. It prompts us to seek alternative explanations, consider different perspectives, and propose new hypotheses. This process is crucial for uncovering gaps in knowledge and addressing unexplained observations. Such innovative ideas ensure that research efforts align with current conceptualizations and enhance the rigor and relevance of scientific investigations.
My experience at Neuroscience 2022 was both fulfilling and challenging. Presenting my research on fear behavior in rodents, which challenged prevailing beliefs, required perseverance and an open-minded approach. Although convincing others of my views proved difficult, I remained steadfast in my commitment to the scientific process. Engaging in constructive discussions with fellow researchers provided valuable insights and motivated me to further explore alternative perspectives. I am driven to continue pushing the boundaries of our understanding of fear behavior and its neural underpinnings in rodents and contribute to the advancement of cognitive and behavioral neuroscience.