2018 NSP Mentoring Breakfast
Each year the Neuroscience Scholars Program identifies a researcher to share reflections on the challenges, joys, and opportunities of a neuroscience career.
Access to the full article is available to SfN members.
Neuronline is a benefit of SfN membership. Renew your membership now to make sure you don't lose access.
Speaker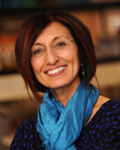 Elba Serrano, PhD
Elba Serrano is the principal investigator and program director of New Mexico State University's Research Initiative for Scientific Enhancement (RISE) and the co-founder principal investigator of the NIH Building Research Achievement in Neuroscience (BRAiN) program. She is also the Regents Professor of biology at New Mexico State University. Serrano is currently a member of the ACD Next Generation Research Initiative Working Group, the NIH BRAIN Multicouncil Working Group, a faculty adviser for the International Neuroethics Society Student/Postdoc Committee, and the co-chair of the NIH Diversity Working Group. Her biomedical research focuses on disorders of hearing and balance, sensory organ formation, and neural tissue engineering. Serrano earned her BS in physics from the University of Rochester and her PhD in biological sciences with an emphasis in neuroscience and biophysics from Stanford University.