2017 NSP Mentoring Breakfast
Each year the Neuroscience Scholars Program identifies a researcher to share reflections on the challenges, joys, and opportunities of a neuroscience career.
Access to the full article is available to SfN members.
Neuronline is a benefit of SfN membership. Renew your membership now to make sure you don't lose access.
Speaker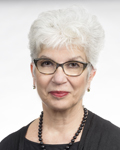 Carol Mason, PhD
Carol Mason is professor of pathology and cell biology, neuroscience, and ophthalmology, and a member of the Mortimer B. Zuckerman Mind Brain Behavior Institute at Columbia University. She is also co-director of the doctoral program in neurobiology and behavior, director of the vision sciences training program, and chair of interschool planning. Mason is a fellow of the National Academy of Sciences, the American Association for the Advancement of Science, and the Institute of Medicine, and a past president of SfN. Mason earned her BS in biology from Chatham College and PhD in zoology from the University of California, Berkeley.