The Benefits of Outreach: Strengthen Your CV, Discover Your Interests, and Broaden Your Community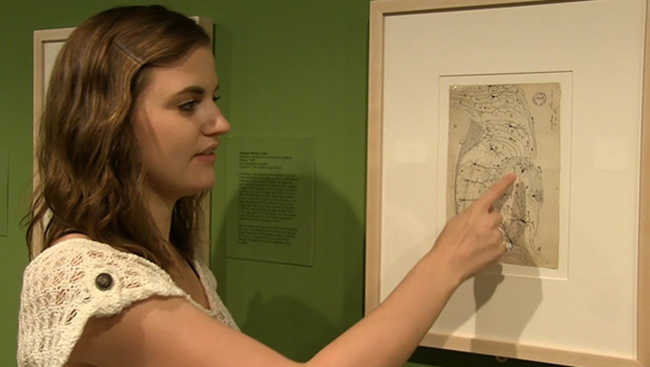 Learn how to make yourself a stronger job candidate, consider career paths you may not have thought of, connect with like-minded scientists, and find work-life balance. In this interview, Samantha Baglot, a PhD student at the University of Calgary, in Canada, shares how she's pursuing her passion for improving education through neuroscience outreach and project management.
What made you want to start doing outreach, and how did you get involved?
When I started my master's degree about three years ago, I joined the Neuroscience Graduate Student Association at The University of British Columbia. I was interested in what their vice president of outreach was doing. At the time, she was organizing Vancouver's Brain Bee and Brain Awareness Week events, as well as collaborative events with artists and other communities on campus. I worked with her. Then an opportunity came up for a project where we look at the history of neuroscience through cartoons, and I took the lead on that. I do a lot of delegating, organizing, and recruiting volunteers.
What draws you to outreach?
I find it provides a unique opportunity outside of the lab to learn skills you don't otherwise have the chance to practice. There's a lot of communication, leadership, and learning how to describe neuroscience to a more general audience.
For me, it's about getting kids excited about science. I remember liking biology in high school but never knowing there were opportunities to do research as a career path. I always knew I wanted to go to post-secondary school, but I thought I would work as a clinician or psychiatrist. When I discovered research as a career path I began to gain an interest in teaching high school kids about research as an option and show how working in a lab is fun.
What are some of the impacts of your outreach you've seen?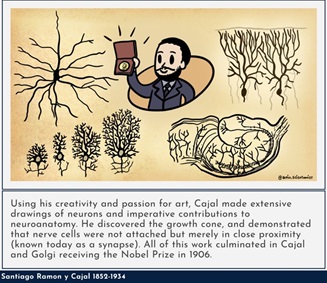 Image provided by Samantha Baglot.
Right now, I'm the lead project organizer for the Neurohistory Cartoons online interactive timeline. We're trying to summarize the main history of neuroscience, some of the important people and events, through cartoons.
We've had a website up for about a year and a half now as well as a Twitter account. People have been returning to the site, and we've seen using Twitter's analytics that the project is gaining traction.
We're trying to add surveys to the website and contact high schools to get more data and to see who's using the content and how. The goal is for university undergraduate professors or even high school teachers to put the cartoons on their PowerPoint slides as a more interesting way for students to learn about the history of neuroscience. We think this approach will be more attention-grabbing as opposed to written facts and black and white photos of scientists, which made me think history was boring in high school.
What tips do you have for communicating clearly and creatively with nonscientists?
Collaborating with people outside neuroscience is probably the best way. It's easy for a group of neuroscientists to think the way they're explaining a concept will make sense to someone who isn't in neuroscience since they're surrounded with peers who easily understand the concept.
Grad students create most of our content, and I think this project provides a unique way for them to make sure the work of the neuroscientist is easily understandable for the general public. You can't just say, "Cajal drew a neuron," without explaining what a neuron is and which parts he drew. They volunteer their time to summarize a neuroscientist who was important for why they picked their area of research, or who inspires them.
How do you make time for outreach?
As a new grad student, a senior grad student told me that the only person who can watch out for your own time is you. It was a great piece of advice on managing your time between research, outreach, and personal life.
People often ask how I have time for it, but I think you have to, for your mental health, make time for activities outside of research. Sometimes you can be in the lab for a while and not feel like you're getting any tangible success, whereas an outreach project provides small feelings of success at regular intervals. I love making checklists and being able to check tasks off. You don't always get those short-term goals in research.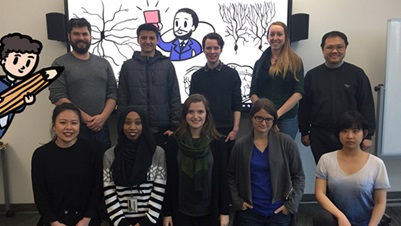 Photo provided by Samantha Baglot.
I'm learning skills I can apply to my career, so I don't mind taking the time to do outreach. It helps you build a strong foundation to be good at any job you do. A lot of the skills we learn as grad students are great, but they're not necessarily everything you need to know to be great at other jobs. Outreach helps you learn skills like leadership and communication that you're not necessarily going to get in more traditional grad school.
What other skills have you learned and how have they been an asset to your career?
I've had to manage more people than I've ever had to before, which is fun but can be a lot of work.
We also have been fortunate enough to win a couple of awards, so I've been keeping track of that budget and using it to apply for more funding. Sometimes the hardest decisions are about what to spend the money on. This involves assessing our list of needs against what I'd love the project to do on a grander scale.
When I first started grad school, I thought I'd do a postdoc and try to be a PI. I still love research, but in doing this project and other outreach work, I've realized there are a lot of other careers that a PhD can lead you to that I wasn't aware of. There's this whole community of science communicators who are peripherally in research but work in trying to bring research to the general public. I've realized that also interests me.
What challenges have you overcome since getting involved in outreach?
As we've gotten our project off the ground, the biggest challenge has been getting people to be aware the project exists. We're slowly getting there. The science community is all over Twitter, so we joined. That's been a fun experience for me, because I didn't even have a personal Twitter account. It's been good to join this broader science art community, learn what other people are doing, and get our project on their radar, but also use our platform to get other people to see their projects as well. It's outreach projects supporting other projects.
Our goal for the project is for a neuroscientist Googling the history of neuroscience to be able to use the project as a jumping off point for reading the publications of historical neuroscientists. I don't want people to think it's only for kids. It would be nice if could do both — span to high school but still be applicable for neuroscientists.
What advice do you have for trainees looking to get involved in outreach?
If you have ideas, or even if you just want to start somewhere, it's always good to see if there's a graduate student association at your institution, whether it's specifically for neuroscience or not. I started by joining one, and then this project was brought up by the former president of the association, who had this idea of collaborating with a friend of hers, who's a cartoonist.
Sit in on one meeting and see if it's something you think you'd be interested in. The time commitment is often not that much. Start small by joining a community and then work your way up.
Speaker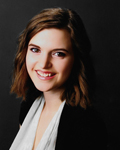 Samantha Baglot
Samantha Baglot is a PhD student at the University of Calgary, in Canada. Her PhD thesis research is examining the effects of prenatal cannabis exposure on maternal functioning and offspring brain and behavioral development. As an MSc student at The University of British Columbia (UBC), she was vice president of outreach for the UBC Neuroscience Graduate Student Association.