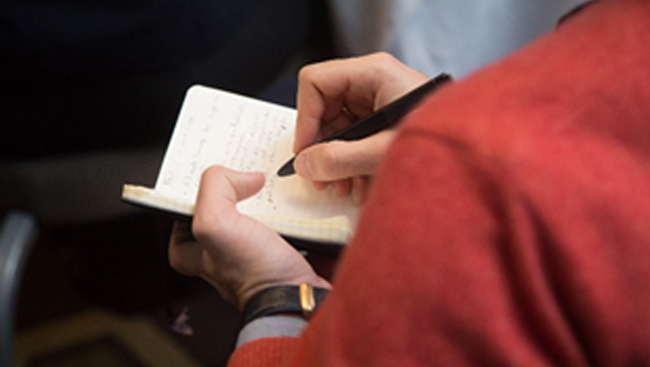 It can be a challenge to avoid distractions and accomplish what needs to get done. Eight students and professors share what helps them manage their time and stay on top of daily tasks.
Some of their suggestions include finding someone to hold you accountable, color-coding your calendars, and breaking projects into chunks.
Read on for more tips.
---
"Sharing my deadlines with friends and colleagues keeps me accountable. Whenever a deadline is approaching, my support system will ask me how the task is coming along and it keeps me on track."
–Tina Franklin, Yale University
---
"I find it useful to order my to do lists in terms of importance. It's easy to get bogged down in the easier, less important tasks."
–Rosemary Jackson, University of Edinburgh
---
"I turn off my email notifications and only check it at designated times during the day. Otherwise, I get constant notices popping up distracting me from whatever I'm trying to complete that day."
–Colin Franz, Shirley Ryan AbilityLab
---
"I have notifications from the calendar on my phone that let me know exactly what I need to do next."
–Bianca Rapp, Drew University
---
"I color code my schedule and use a colorized heat map which shows my effort allocation. I then adjust my priorities to either increase time on high impact activities or reduce time on lower priority tasks."
–Elba Serrano, NMSU
---
"Don't try to fully complete one task at a time. I set aside either an amount of time or a chunk of a project to complete for each project I'm working on in parallel."
–Sara Burke, University of Florida
---
"At the beginning of the day, I make a list of what I need to do and then focus on accomplishing tasks on my list one by one."
–Zila Martinez-Lozada, CHOP
---
"I centralize all my tasks and events in two places: a central calendar with colors distinguishing the category of event, and the task manager, Asana. The lab I work in uses Asana to organize projects and ongoing events in our lab, and it's such a valuable tool. My supervisor can monitor ongoing projects and comment on individual tasks. Tasks can be assigned to individuals, and subtasks can be created so that all of the relevant information is connected."
–Alexandra Ellis, Temple University