Pursuing an MD/PhD? How and Why to Balance Basic and Clinical Training
This an audio-only recording captured at Neuroscience 2018.
Through seeking out clinical learning opportunities as a graduate student, you'll open yourself up to career paths you may not have considered, as well as inspiration for your research now and in the future.
This Meet-the-Clinician-Expert features Y. Joyce Liao, a physician-scientist and the director of Neuro-Opthalmology at Stanford University, who walks through ways to strategically structure your training.
"As a person hoping to cross the basic research and the clinical realm, it's really important that you're growing on both sides continuously. While you're in graduate school, you want to be doing good research so that you can graduate and learn all the skills to be a scientist, but you should be doing some clinical research too," she shares.
To do that, Liao advises starting by building a clinical training program for yourself.
"One easy thing to do is find out who is seeing patients with the disease you're interested in and convince that person to let you shadow them in the clinic," she says. "You have time now, and if you ask the right person, it's actually really easy to be basically in a small exam room, seeing patients and what they say about their symptoms."
What's more, having those experiences of working with patients can be an invaluable complement to what you learn in school or in the lab as you think about how to advance in your career.
"What's beautiful about seeing patients is that you will never forget that. It will make you think about the therapies that are needed. Keeping your mind open and seeing patients will give you ideas about what you want to be doing next."
Watch the rest of the event to learn:
The ideal amount of time to spend in the clinic.
Considerations for going through a PhD program.
How to make time for clinical research throughout your training.
How to choose research questions that will help you define your career.
How to stay focused and maintain momentum through your postdoc and residency.
Speaker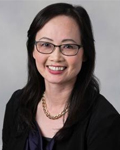 Y. Joyce Liao, MD, PhD
Y. Joyce Liao is a clinician-scientist and director of neuro-ophthalmology at Stanford University. She earned her MD/PhD in neuroscience Medical Scientist Training Program at the University of California, San Francisco. One of her primary research interests is understanding and treating human conditions that lead to retinal ganglion cell loss and irreversible thinning of the optic nerve. Her clinical research focuses on assessments of visual function and vision rehabilitation.