My Journey From Synapse to Circuit and Behavior
This an audio-only recording captured at Neuroscience 2018.
Camilla Bellone started her career working on cellular mechanisms underlying the synaptic function of defined neuronal circuits during postnatal maturation. Now an assistant professor at the University of Geneva, she runs a lab focusing on the molecular determinants and the circuits that control social behavior in physiological and pathological conditions.
In this Meet the Expert, she offers a look at the roles of training abroad and openness to new collaborations in allowing her to expand her skillset as a scientist, as well as how she has balanced her evolving interests in synapses, circuits, and behaviors.
"Behavior wasn't something I was thinking about when I started my lab, but we hired someone who knew a little bit about behavior, and for me this led to new research questions," she says. "It's great to look at how mice perform the type of behavior they do and be able to bring my knowledge, to go back to the synapses."
Her advice for scientists charting their career trajectory: Be proactive, search out mentors, take advantage of available technologies, find collaborators who will inspire you, and always be looking for ways to grow.
"I would never have thought ten years ago that my research would go in this direction, and I don't know what I will be doing ten years from now. But I'm ready to learn more and to meet new people and not be afraid to look for new venues," she says. "Now is a moment when you have to ask questions."
Speaker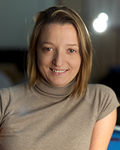 Camilla Bellone, PhD
Camilla Bellone obtained her PhD from the University of Milan in 2006 while working at the Faculty of Medicine at the University of Geneva. After completing a postdoctoral internship at the University of California, San Francisco in the laboratory of Roger Nicoll, she returned to the University of Geneva as a senior scientist in the department of fundamental neuroscience, where she worked in the laboratory of Christian Luscher. In 2014 she received an assistant professor fellowship from the Swiss National Science Foundation, and in 2016 she was appointed assistant professor with tenure track at the University of Geneva.