Why Your Personal Story Is Important and Tips for Sharing It
Your personal story is the foundation of your advocacy and outreach efforts, regardless of your scientific background. Learn how to cater your story to this audience — elected officials — and how it differs from speaking with colleagues or the public. This video includes an example of a direct comparison between a collegial introduction to other scientists and an elevator pitch that's used on Capitol Hill.
This video will cover:
Key elements to an effective research story.
How to be memorable among many other advocates and priorities by putting a face to research funding.
Ways to update your scientific elevator pitch for a conversation with a Congressional office.
SfN is dedicated to helping you continue to grow as an advocate whether you're brand new or have years of experience. Learn more at sfn.org/advocacy or email advocacy@sfn.org for assistance.
For more advice, explore these resources:
The Power of a Good Anecdote: Lessons from SfN's Capitol Hill Day
Leveraging Public Opinion in Support of Science
Speaker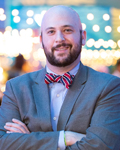 Adam Katz
Adam Katz is the Advocacy Engagement Manager at the Society for Neuroscience, where he equips and empowers researchers to engage their elected officials. He previously was a Policy and Advocacy Specialist at Research!America and an intramural postbaccalaureate researcher within the National Institute of Mental Health. Katz's main research interests lie in neural plasticity. He received his undergraduate degree in brain and cognitive science from the University of Rochester and his Master's in policy and advocacy from Georgetown University.