The Power of a Good Anecdote: Lessons From SfN's Capitol Hill Day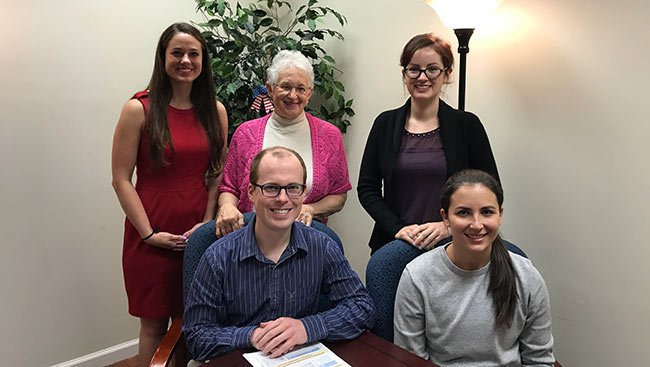 Tell a good story.
It's a mantra we scientists live by. We all weave narratives into papers and talks, but the stories we tell stem from one common denominator: evidence.
In science, we demand data. Consequently, when speaking with nonscientists (especially policymakers), we may be tempted to rattle off hard facts as evidence for what we are trying to say. While we may have an arsenal of statistics showing how our particular research could help prevent or treat disease, save millions in healthcare costs, or stimulate the economy, if we only rely on numbers, most people will get bored.
Yet, while anecdotes are by their nature unscientific, they can be more valuable than any statistic for effective science communication, because a good story sticks with people.
In March 2017, I attended Capitol Hill Day as an Early Career Policy Ambassador and had the opportunity to share stories with representatives from North Carolina and Virginia to emphasize why funding NIH and NSF is so important.
I recounted my interactions with newly diagnosed patients. Many have fearfully asked me what they can do to preserve their memories, but my answer always leaves them unsatisfied: We currently have no treatments to prevent or cure Alzheimer's. Only increased research (through more funding) may lead to advancements. One member of my Hill Day group shared that her two bright graduate students were considering careers outside of academia because of funding uncertainty. Conversely, another colleague spoke about the revitalization of Kannapolis, a small North Carolina town that was on the brink of economic collapse until an NIH grant-funded research facility opened and brought hundreds of jobs to the area.
All of these anecdotes served the same purpose as our statistics — to demonstrate how funding for biomedical research impacts patients, empowers scientists to find treatments and cures for life-altering diseases, and supports the economy. However, our personal stories brought an emotional edge to our advocacy efforts, so when we asked our representatives to take steps to support biomedical research, they were more sympathetic to our asks.
Specifically, we requested increases in NIH and NSF funding, for the BRAIN Initiative funds from the 21st Century Cures Act to be released, and for them to show their support through congressional "Dear Colleague" letters and caucus participation. Our stories demonstrated how each of these actions would support patients, economic growth, national security, and technological progress — and we did it all without a single figure or graph.
Good stories work.
You don't have to go to Washington, DC to use these advocacy skills and tell your representatives why NIH and NSF funding is so important. Contact your lawmakers through SfN's Advocacy Network or schedule a meeting with them at their local offices. Practice storytelling during academic and public lectures, keeping your narrative simple and showing how your science can improve the lives of people in your own community.
As I learned at Hill Day, first-hand experiences can be more powerful than you might realize.