Leveraging Public Opinion in Support of Science

December 04, 2017
1:00 PM - 2:00 PM EST
Public support of science can be instrumental in influencing congressional support of research funding. While public support for science is strong, few Americans understand our nation's scientific enterprise.
In this webinar, speakers will provide tips for effectively communicating about the importance of science, the patient experience, and recent discoveries that have potential policy implications to help ensure the public continues their strong support of federally funded scientific research.
Leveraging data from Research!America, University of California, San Francisco, ScienceCounts, and other relevant sources, speakers will analyze public opinion survey data on scientific issues to help scientists frame messages that address knowledge gaps in scientific literacy, as well as craft concise, compelling narratives such as the 3-Minute Thesis.
Speakers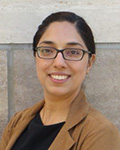 Navneet Matharu, PhD
Navneet Matharu is a postdoctoral scholar in the department of bioengineering and therapeutic sciences at the University of California, San Francisco (UCSF). She is the 2017 winner of the Charles J. Epstein Trainee Award for Excellence in Human Genetics Research. Matharu is a member of the American Society for Human Genetics and the European Society of Human Genetics. Through her research, she seeded an innovative gene regulation therapy approach for gene dosage diseases. She is also a co-founder of gene regulation therapy based on the new and innovative venture, Enhancer Therapeutics, Inc. Matharu is an enthusiastic communicator, winning the People's Choice Award and the runner-up award in the nation's first-ever postdoc slam competition at UCSF. She actively engages in science education partnership programs with the California Academy of Sciences to encourage and train high school students in research activities. She has coached several Grad Slam and postdoc slam finalists who won 3MT talks. An avid supporter of women in science, Matharu closely mentors many young women researchers and encourages them to break their molds and become leaders.
Christopher Volpe, PhD
Christopher Volpe is the executive director of ScienceCounts, a 501(c)3 organization working to enhance public support for science. He is a vocal advocate for enhancing the impact of science communication activities by incorporating proven marketing and sales strategies and tactics from the business sector. Over the last two decades, Volpe has been an active entrepreneur, launching several ventures to support the development and marketing of science education and outreach products and services. Prior to ScienceCounts, he was the president and co-founder of Prismatic Laser Programs, an innovative education company that is currently the nation's leading provider of STEM assembly programs and events to K - 12 schools, science museums, and planetariums. Before Prismatic, Volpe was the executive director and partner of Hyperlearning, a California-based science education company that created novel undergraduate science education resources, until it was acquired by The Princeton Review. He is also a senior pilot for the Commemorative Air Force, an aviation museum that maintains the world's largest collection of flying WWII aircraft. Volpe received his BS in chemistry from Rutgers University and PhD in oceanography from Scripps Institution of Oceanography at the University of California, San Diego.
Mary Woolley
Mary Woolley is the president and CEO of Research!America, the nation's largest not-for-profit alliance working to make research to improve health a higher national priority. She is an elected member of the National Academy of Medicine and served two terms on its Governing Council. She is a fellow of AAAS. Woolley served two terms on the National Academy of Sciences (NAS) Board on Life Sciences and currently serves on the NAS Board on Higher Education and the Workforce. She is a founding member of the Board of Associates of the Whitehead Institute for Biomedical Research, a member of the board of the Institute for Systems Biology, and a member of the visiting committee of the University of Chicago Medical Center. Woolley has a 30-year publication history on science advocacy and research related topics, and is a sought-after speaker, often interviewed by science, news, and policy journalists.