How to Advocate for Science When You Don't Have Experience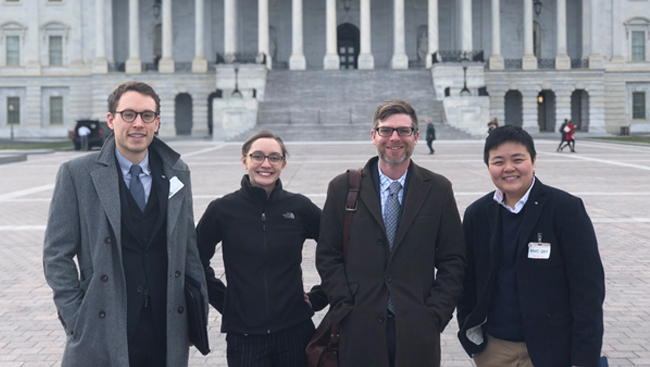 Joe Luchsinger started conducting science advocacy because he was passionate about an issue that affected scientists. Now, he regularly hosts lab tours and shares how others can talk with their local policymakers.
Read his story and listen to part of his presentation at the Neuroscience 2018 Advocacy Reception, "Engaging Local Policymakers: Strategies for Scientists," to start making a difference in science policy no matter your level of advocacy experience.
What made you want to become a neuroscience advocate?
The impetus for getting involved in advocacy was the grad student tax. The prospect of increasing the tax rate on graduate student stipends upset me. I believe that you must ask for what you need, or nothing will happen. I was in D.C. for SfN's annual meeting, so I decided to go to the Hill to ask my Congressman not to support the tax.
Contacting the office on short notice was not effective, I learned. However, the congressional staff arranged a follow-up meeting for me with my Congressman in Nashville, where I live. This meeting was meaningful and encouraged me to pursue advocacy.
I decided to apply to become an SfN Early Career Policy Ambassador (ECPA). It's a phenomenal program. For SfN's Hill Day, you're trained how to advocate appropriately and meet with representatives from your region. Our team made a pitch for increased NSF and NIH funding. Then, SfN encouraged us to do other types of advocacy.
Can you talk about some of your advocacy work and the impact you've seen so far?
The focus of my work has been to get people from congressional offices — whether they're elected official or their staffers — into a lab to see how we use science funding. We've set up tours showcasing our cutting-edge neuroscience research, how it's done, who's doing the research, and the jobs it creates. Reactions across the board have been positive.
During the tours, it's important to demonstrate aspects of your work with a focus on individuals who are not trained in science. This introduces participants to the "what" and the "why" of the research. You provide a way for them to appreciate its value and potential.
For example, we have a new neuroimaging core at Vanderbilt with a light-sheet microscope. Showing visitors how we can now image brains in 3D is compelling because they can see how much more information is available than in a two-dimensional slice.
I've also been involved in the Rally for Medical Research, which brings different scientific and health organizations together to advocate for increased NIH funding. I met one staffer twice during the Rally and SfN's Hill Day, and she reached out to me to ask for a lab tour. That really solidified the value of and the importance of forming personal relationships.
How do you prepare to meet with members of Congress?
We spend time crafting a 60-to-120-second elevator pitch to highlight our work, its impacts, and why it's important.
It helps to practice so you're not nervous. Talk about your work with family members, friends, or scientists who aren't in your particular area. It's a nice way to step back and say, "How do I explain this concisely so that someone without a scientific background will understand?"
How do you recommend approaching your PI about getting involved in science advocacy?
Not only do you have to make time to do advocacy, but also you have to show your PI why spending time outside of the lab is worthwhile.
Fortunately, I think most PIs realize the importance of increased funding. Emphasize to them that someone must advocate, and as scientists, we need to be in the room. Consider asking your PI for input about creating engaging examples and explanations. My PI, Danny Winder, has been extremely supportive of my advocacy and was even willing to participate in the lab tours.
The pitch to lawmakers is much stronger when it comes from a scientist, because we're able to speak with authority about funding and science-related issues.
In what way has advocacy impacted your career?
It's given me a totally different skillset I didn't have before. I've also met fascinating people in neuroscience and in the broader scientific community. Though we were introduced through our advocacy work, I'm also interested in their scientific experience. For example, I met a past president of the American Diabetes Association during my last SfN Hill Day, and I've helped his lab apply neuroscience tools to their cutting-edge diabetes research.
I've learned a lot from my ECPA colleagues, senior scientists, and clinicians involved in different advocacy groups. They've helped me think about how to be effective and incorporate advocacy tactics they've used with success.
Earlier in my career, I didn't think I'd be involved in advocacy. But now, I'm certain I'll be involved for the rest of my career. What exactly that will look like I'm not sure, but whatever area of science I'm in, advocacy will be a big part of what I'm doing.
What advice do you have for young investigators looking to get involved in advocacy?
The best advice I can give to anyone who is interested, is jump in and try it. That's the only way you're going to get experience. When you start interacting with people, you'll quickly learn how to be effective.
I think anybody can do advocacy well with the right tools and practice. Even if you have no training, consider getting involved. You'll learn as you go.
For a timeline and tips for planning a lab tour, read this article.
Speaker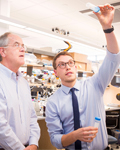 Joe Luchsinger
Joe Luchsinger is an MD/PhD student at Vanderbilt University Medical School, where he works in Danny Winder's lab. He holds a BS in neuroscience and psychology and a BA in physics from Baldwin-Wallace University.